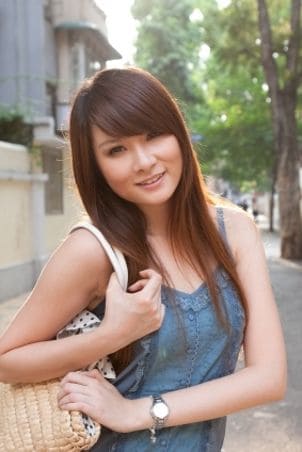 Things You Need:
Hair dryer
Hair clips
Round brush
Hair product
No matter how much time you spend with your hair dryer, it always seems like the perfect salon hairstyle remains elusive. However, creating professional hair at home is easy as long as you have the right brush, the right product , the right hair dryer and a little bit of instruction. If you're tired of dealing with lackluster results from blow drying your hair at home, check out this guide on how to create a salon blow-out using hair dryers.
Creating a Salon Blow-out:

Wash and dry hair. You'll want your hair to be damp for the blow-out process, so after showering, gently pat hair dry with a towel until hair is 60 percent dry. This will eliminate frizz caused by vigorously rubbing the hair cuticle.

Pick out a brush. A round brush is essential for creating bouncy hair that won't go flat after a few hours. If you have short hair, opt for a smaller hairbrush that will make it simple to control your style. For medium to long hair, pick a large hairbrush that will create a loose curl. If you have layers in your hair, you may want one of each brush style.

Apply the product. Many people think that they need excessive hair products to keep their hairstyle in check, but too much will actually leave your hair limp and lifeless.

Choose the Right Product for Your Hair

For fine hair: Use a volumizing spray at the roots only, focusing on the crown of your head. Work in a quarter size amount of lightweight pomade or thickening foam from root to tip. This will help your blow-out stay in place all day.

For curly hair: Apply a quarter-sized amount of straightening serum, focusing the product on the ends of your hair.

For color-treated hair: Color treated hair is especially susceptible to heat damage, so make sure it's protected before you begin. Apply root-lifting spray to the crown and follow it up with a quarter-sized amount of heat-protecting conditioning spray all over hair. Apply blow-drying cream or other heat-deflecting cream to the ends for extra protection.

Section hair. Once you've applied the product, comb hair with a wide-toothed comb and part it how you generally style it. From there, you will want to use plastic hair clips to create seven sections of hair. Start with the top layer, pulling it back and twisting it into a clip. Divide the middle layer of your hair into three sections -- two on the sides and one in back. Clip these also. Repeat for bottom layer of hair.

Begin blow drying. Most hair dryers come with funnel attachments that allow you to direct the air flow and have greater control while blow drying. Whether you're using an ionic hair dryer or an older version, you'll want this attachment for the closest thing to professional hair. Unclip one section of hair and position a round brush at the root. Switch your blow dryer to a medium heat setting and angle the nozzle downward at a less than 90 degree angle, slowly pulling hair away from scalp. Once you reach the end of your hair, curl under and blast with cool air for a few seconds. Continue this process on each section until hair is thoroughly dried.

Put the finishing touches on your hair. Finger comb through your hair and apply a few drops of smoothing serum to the ends only. Thanks to the product you applied in the beginning, you won't need hairspray to hold your sleek hairstyle in place.

Buy Hair Dryers
Back to Guides Directory