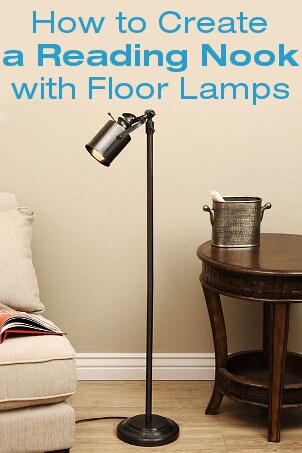 SHOP FLOOR LAMPS NOW >>
Although reading in bed is convenient, scientific studies show that that having a separate place to get lost in a good book can actually help you sleep better. Using floor lamps, a little creativity, and these steps, you can create a cozy reading nook that is set apart from the rest of your home and can be used as an area to unwind.
Create a Reading Nook:

Pick out a corner of your den or bedroom. Where you set up your nook should be based largely on your reading habits. If you prefer to drift off to sleep with a good book, create a space for reading in your bedroom that makes it easy to travel to bed when you get sleepy. If you want a reading nook that is in a central area of the house, pick out a corner in the den to transform. Multiple reading nooks throughout your home will let you choose the spot that feels good at different times of the day, and if there are several readers in your home, each person can have their own spot.

Shop for an oversized chair and a sturdy side table. Whether you want a recliner or a chaise, try to find a chair that you can spend hours relaxing in. A side table will come in handy for setting down drinks and books. If you have room, put a small bookcase and an ottoman nearby. You could also choose a reclining chair to make it easy to put your feet up while you read.

Add a reading lamp that suits your style. Once your furniture is picked out, you can choose a reading lamp to match. Lamps are an important part of the reading nook because they prevent strain on your eyes caused by reading in dim light. A floor lamp will give a good amount of warm light at the right level for reading. If your reading chair is contemporary, go for a modern lamp with a slender arc that hangs over your chair for direct light. For a classic chair, choose an accenting floor lamp with a bronze base and a silk shade.

Finish the nook with accessories. Keep everything you need while reading close by storing it in a basket under your side table. In the basket, stash essentials, like your current novel, tissues, a cozy blanket, and your reading glasses. You can also keep a pocket dictionary and a journal for recording your thoughts if you're into thorough reading. During warmer months, you may also want to place a quiet fan nearby to keep you cool.

Shop Contemporary Floor Lamps
Shop Tiffany-Style Floor Lamps
Shop All Floor Lamps
See All Guides
Read More Home Guides
Learn More about Lighting
Published October 20, 2011
Updated November 12, 2014