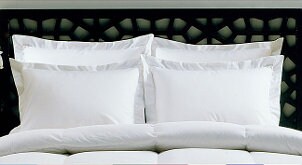 When placed on top of a bed, a pillow case is often the star of the bedding show. It's the first thing you see each morning and the last thing you see before going to sleep, so why not make it reflect your personality? The plain pillowcases that often accompany bedding sets are a great canvas for creating something unique and individual to your bedroom. To add flair to your bedding, keep reading. This guide will outline tips on how to create a personalized pillowcase.
Personalizing Your Pillow Case:

Go vintage with lace trim. If you're going for a vintage vibe, try sewing lace trim along the opening of your pillow case. Adding a strip of lace will make your bedding feel fancy without being over-the-top romantic. If your sewing skills are less than professional, you can also use iron-on bonding adhesive to affix the lace to your pillowcase.

Try tie-dye. Experimenting with dye will change your pillowcases from boring to unique with minimal effort. If your bedroom has a bohemian vibe, try tie-dying a white pillowcase with one dye color. Simply wrap elastic bands around a rolled up pillowcase and follow the directions on the dye box. For a fashionable bedding look, dip your pillowcases in dye repeatedly starting from the bottom and working up to create a faded effect.

Personalize with fabric transfers. It's simple to make your pillowcases more artistic with iron-on fabric transfers. Select a simple design, like a bold star for adult bedding, or try something fun for children's pillowcases. By transferring a family photo or a picture of a favorite television show character onto a personalized pillowcase, you can change the look of a child's bedroom frequently without purchasing all new bedding. Choosing your own design instantly makes a pillowcase reflect your tastes and style.

Gift monogrammed pillowcases. Monogrammed towels are a popular wedding gift, and with the aid of iron-on letters, you can make a matching monogrammed pillowcase set that newlyweds will treasure. Make sure that your personalized pillowcases look professional by choosing bold block letters or flowing cursive ones and positioning them along the edge of the pillowcase where they will discreetly add a little bit of charm to standard bedding.

Buy Pillowcases
Back to Guides Directory