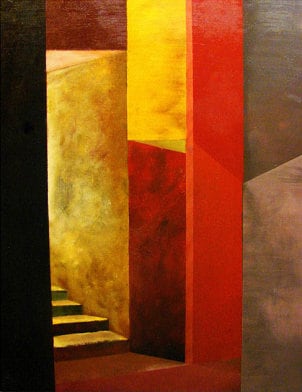 If you enjoy visiting museums and looking at paintings, why not create an art gallery in your own home? Whether you prefer abstract art or tend to buy art with a classic feel, you can use the artwork you've purchased or created yourself to form a stunning, original art gallery in no time. Read on for tips on creating a home art gallery.
Creating a Home Art Gallery:

Find a space. While you probably won't have rooms and rooms to devote to a fine art gallery, you'll need an empty area for hanging and displaying artwork. A bare wall in your living room can become a pop art gallery, and you can even convert an empty walk-in closet to a digital art gallery if you're really short on space. Decide whether you'd like to show your gallery to friends; if so, you'll want to create your art gallery in an open, easily-accessible area.

Decide on a theme. Your original art gallery will look much more professional if you pick a theme and stick to it. Try displaying abstract art pieces together or arranging a pop art gallery by color for visual appeal; you can also place works by the same artist together if you're creating a fine art gallery so you can view the differences and similarities in the pieces. Your gallery doesn't have to showcase just paintings and drawings, either; a photo art gallery filled with black-and-white images can be stunning, and sculptures are equally beautiful when displayed together.

Display your artwork precisely. Flawless execution will be what sets your contemporary art gallery apart. If you plan to hang your paintings, use a level to line them up and keep a uniform width between the artwork. If you want to create a more eclectic photo art gallery, use easels to display your favorite images or hang photos closer together for a cozier feel. Pick up matching frames when you buy art so your drawings and paintings will have a professional look.

Create placards and descriptions. Make your art gallery more authentic by printing your own placards with the name, year and artist of each painting. If your contemporary art gallery features your own pieces, have some fun and include the story behind the artwork. A modern art gallery with photos and biographies of the artists would also be unique and interesting to look at.

Buy Art Gallery
Back to Guides Directory