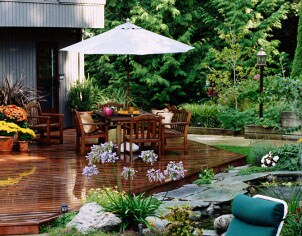 Today, feng shui is most widely used to situate homes and home decor in a way to maximize the chi, or the good energy, of an area. Feng shui itself is a complex body of knowledge designed to balance the energies in any given space to bring health and good fortune to those who reside in it. Creating good feng shui can be a complex project, but concentrating on creating a comfortable living space that reflects your personality is a great way to create good energy in your home. Here's how to work with the five feng shui elements to bring harmony to your garden and create your own personal outdoor paradise.
Using Feng Shui in Your Outdoor Decor:

Metal: The metal element brings clarity and an energy of preciseness to your home. Metal should be placed in the west, northwest, or north areas. The best way to include the metal element in your outdoor decor is with a metal statue or other metal-made garden accent. A perfect example is wind chimes: They are beautiful to look at and also create a calming, gentle sound.

Wood: The wood element represents the energy of health, vitality, and growth. Wood should be placed in the east, southeast, or south areas. Include wood in your outdoor areas with a patio and/or a patio set. Tile your patio with a set of hardwood tiles, or create the perfect place to relax with friends with a luxurious wooden patio seating set.

Earth: The earth element represents stability and nourishment. It should be placed in the northeast area of your outdoor space. Since the earth element represents nourishment, what better way to embody it than with a garden? Plant some flowers or a vegetable garden to keep the calming energy flowing through your yard. If you don't have a green thumb, build a Zen garden with beautiful rock formations of your creation. Make sure that you use relaxing, flowing lines in your gardens and pathways. Nature rarely creates a straight line, so try to mimic nature's example in your own gardens.

Water: The water element represents calmness, purity, and freshness. It also represents abundance. Your representation of the water element should be placed in the southeast, east, or north areas. A great way to include water in your garden is with a fountain or other water feature. The sound of falling water will create a relaxing atmosphere, so place a seating area near enough to your water feature that you will be able to sit and let the sound relax you while you watch the water flow.

Fire: The fire element represents passion and energy in life. The fire element should be placed in the northeast and southwest areas of your garden. There are a few ways you can incorporate the fire element into your outdoors. The most literal would, of course, be a fire pit. Fire pits are great to have on summer nights, when you can invite friends over and gather around the fire. If a fire pit isn't the best choice for your space, try lighting decor, like lanterns, tiki torches, or outdoor candles. If you want to steer clear of open flames all together, incorporate the element with the colors of fire: red, orange, purple, pink, and yellow. Plant a flower garden and let the vibrant colors inspire you.
If You Have Children:

When kids are around, no outdoor area is complete without a place for them to play. Create a play area on the west side of the garden for your little ones; the west is connected to the energy of children and creativity.
What Do You Want to Do Next?

Shop for Garden and Patio Decor
Shop for Home Decor
See all Home and Garden Items
See All Guides
Read More Garden and Patio Guides
Learn More about Garden Decor