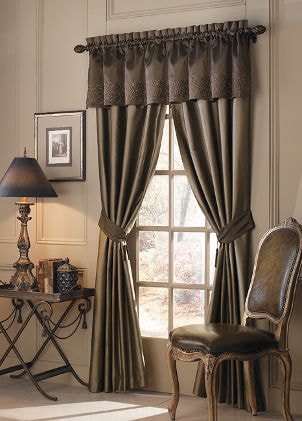 A bishop's sleeve window treatment is a single curtain panel that has been tied in several places to make it look like the billowing sleeve seen on formal bishop's sleeve blouses, which is fuller at the top and gathered at the end. A bishop's sleeve window treatment looks best in formal living rooms or dining rooms and can be done easily using curtains you already have. You can create this look yourself in a matter of minutes.
Bishop's Sleeve Treatment:

Pick the right curtain fabric. Heavy fabrics won't give you the billowy look you want with a bishop's sleeve treatment, so stay away from curtains made out of heavy cotton or synthetic materials, like suede. Instead, look for curtains made from linen, thin cotton or sheer polyester.

Choose your ties. For a bishop's sleeve, you want three layers of gathered pouf. This look can be achieved using either a panel on each side or a single panel in the middle. After you've decided the number of panels you want to use, create a tie for each layer. You can use something discreet to tie the panels, like a thin ribbon, or you may want to use something more ornate, like decorative gold rope that can be found at a craft or upholstery store.

Prepare the ties and attach them to the panel. You will need three ties per curtain panel. To make sure your tie is big enough to fit around the curtain, cut each one into 24-inch sections. Divide the curtain into equal sections of three using a measuring tape and mark where each tie should go using a clothespin or paperclip. Tie the circumference of each section with your desired material; this works best if you do it while the curtain is hanging. Trim the excess tie.

Adjust until it looks right. Once the ties are tightly in place, pull each section of the curtain panel above a tie until it begins to billow over the tie. After you have done this to each section, step back to make sure the curtain looks symmetrical.

Buy Curtains
Back to Guides Directory