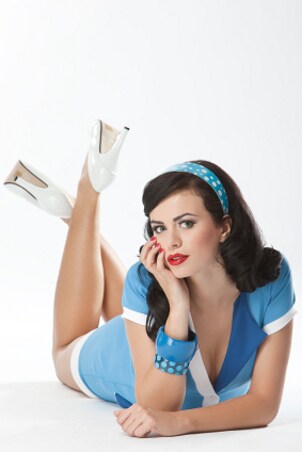 Keep your style fresh with vintage jewelry and fashions. Popular television shows have brought back 1960s styles, giving everyone the chance to look into their closets and mix things up in a new, or rather old, way. It's not always easy to craft decade-specific looks, but with some creativity and a touch of estate jewelry, you can wow everyone with your vintage style know-how. The trick is to pick a look and pair antique jewelry with groovy duds or mod designs. Use these tips to take your daily style from flat to far out.
Wearing 1960s Vintage Jewelry:

Choose a style: The 1960s gave us many different style genres. Mod styles are sleek and minimalistic, while hippie fashions are overgrown and overdone. To create the mod look, pair vintage jewelry in bulky geometric shapes and neutral colors with slim-cut pants and sack dresses. Crystals, Lucite and glass are common in mod estate jewelry. Oversized earrings and cocktail rings are also characteristic of the mod genre. For a hippie look, colorful jewelry is best. Long beaded necklaces, layered leather bracelets and braided pieces are all great options. Pair this antique jewelry with long tube dresses and floral prints.

Balance vintage with modern: For a look that is suitable for work rather than a costume party, keep your 1960s look grounded with some modern pieces. Vintage jewelry can easily be worn with current clothing trends. Leather motorcycle boots keep a vintage dress and an antique necklace in this decade. Pair a smart tailored blazer with your wide-leg trousers and layers of beaded vintage necklaces. Antique jewelry is much more versatile when you know how to wear it with a variety of items in your closet.

For the men: Men's estate jewelry is also available, giving trendy guys the chance to indulge in a fun decade of trends. Antique watches and cuff links are among the most popular vintage jewelry selections for men, though fashionable rings are also common. Try a gemstone ring with a slim-cut suit or a leather necklace with a paisley shirt. Vintage jewelry opens up a whole new world of style options for both men and women.

Buy Estate Jewelry
Back to Guides Directory