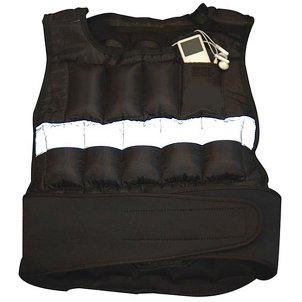 If you want to add resistance to your core training workout, strap on a weighted vest. Ideal for aerobic exercise as well as sporting competitions and training sessions, weighted vests can provide one pound to 60 pounds or more of added weight to allow you to perform sports and recreational activities under more challenging conditions. Some weight vests are designed with removable weights that are added to inside pockets, which can then be taken out as needed. Weight vests are designed for male and female athletes and sports enthusiasts alike as well as those just wanting to increase the resistance level of their fitness and core training during exercise.
Comparing Weighted Vests:

Look at the construction of the vest. Compare back straps, shoulder straps and belts to test how well the weighted vest remains in place when it is in use. One good idea is to read customer reviews for a specific weighted training vest to find out if the construction has any flaws.

Compare how the vests fit on your torso. Choose a vest that maximizes the movement of your arms, shoulders and neck. While any weighted workout vest may feel great at the beginning of workout, you'll be grateful you chose one that maximizes mobility by the end of a workout.

See if the vest has removable inserts. Some weighted vests do not offer inserts and feature non-removable weights that are sewn into the vest, which makes the vests less versatile. Weighted training vests with removable inserts allow you to customize the amount of weight you're carrying for the workout you're doing.

Compare the length of the weighted vest. Some weighted training vests are worn over the entire torso and include a belt that secures the vest at the waist. Other vests are worn just above the chest cavity. Both are equally effective; however, sizing will vary based on brand. Compact weight vests are ideal for athletes who want more versatility and mobility.

Consider additional features. Features that may be included in some models but not in others include padded shoulders for comfort and vents for breathability. These aren't essential, but they're very nice if you're doing extended workouts in your weight vest.

Buy Core Training Equipment
Back to Guides Directory