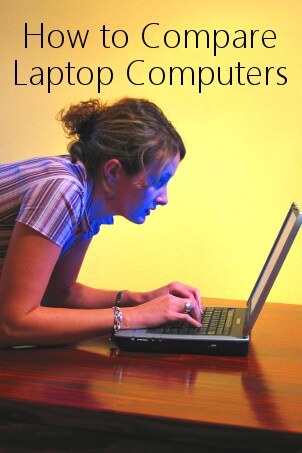 A laptop computer is a perfect solution for the computer user on the go. Comparing laptop computers can be frustrating and time consuming if you aren't aware of which features to look out for. From screen size to processing power, there are many options that will determine which specific laptop is right for you. Before laying down the money for a new laptop, weigh all the pros and cons of any given model.
Comparing Laptops:

Take stock of which operating system you are most familiar with and which specific programs you plan to use. You'll probably be happiest with your purchase if you buy a laptop computer that has the operating system you are comfortable using. Learning a new OS can be tricky, especially on something smaller, like a laptop. However, if you're buying a laptop specifically to use programs that are only compatible with a certain OS, then that's more important than familiarity.

Think about how large of a screen you need and how frequently you will be carrying the laptop from place to place. Consider a laptop with a 17-inch or larger screen if you want to view movies or need larger text on the screen. Go with a 15-inch screen or smaller if you want a laptop that weighs less and is easier to transport.

Find out the laptop computer's battery life and how long it takes to fully charge. Choose a laptop with the longest possible battery life for long road trips or other extended periods where you can't charge the computer.

Determine the type of software you will be using on the laptop. Check the laptop's processor speed and amount of random access memory (RAM). Make sure it has enough RAM and processing power to run the programs you need. If you do a lot of photo editing, for example, you'll need more RAM than if you mainly do word processing.

Consider if you will be connecting to a wireless network on a regular basis. Check to make sure the laptop computer comes with a wireless network card, so you can quickly connect to the internet.

Check to see what kind of graphics card is included with the laptop. Pick a laptop with a more advanced graphics card that has an HDMI (high definition) connection if you want to connect your laptop to an HD television.

Read through the list of software that is installed on the computer. You may be able to save money by picking a computer that already has spreadsheet, database, and word processing software.
What Do You Want to Do Next?

Shop Laptops
Shop Ultrabooks
Shop All Computers
See All Guides
Read More Computer Guides
Learn More about Laptops