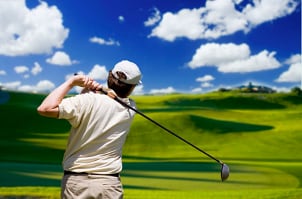 Although a classic game of golf is fun and challenging, many golfers are introducing technology into their game to improve their play. Golf GPS units let you see exactly where you are on the golf course, including how many yards are between you and the hole. Some golf GPS units will also show you where bunkers and water hazards are as well. After considering golf course libraries and screen graphics, you will be able to find the best golf course GPS system to complement your golf game.
Instructions:

Consider what it tells you. Golf GPS units vary greatly in the information they provide you and how they display the info. Some simple golf GPS systems will just tell you the distance to the hole from your position. Other golf GPS units will have color screens and provide detailed maps of the golf course. In addition to the distance to the hole, most will give you the front and back of the green as well. Some GPS units will also let you plan your shot by telling you the distance to any feature on the golf course.

Think about the memory. Golf GPS units vary greatly in the number of courses they can hold. Some golf GPS units will hold 30,000 courses, and, with a little luck, you'll get to play them all in your lifetime. Several golf GPS units will only hold 10 golf courses, which is fine if you stay local. But if you plan your vacations around golfing, you will probably want to have dozens of courses for each destination so that you always have the course where you were able to get a tee time. A larger memory or library will also save you from having to erase and download course maps to your system as often.

Water hazard. If you're the type to stay on the course even when it starts to rain, consider getting a golf GPS unit that is waterproof or water-resistant. This way, you can still use your system throughout your game without worrying about damaging your GPS unit.

View All Golf Course GPS
Back to Guides Directory