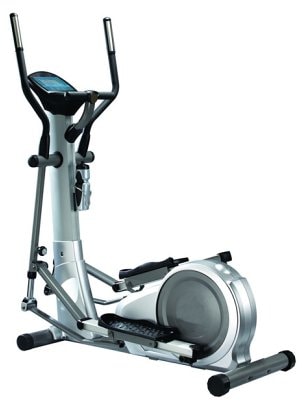 Elliptical trainers allow you to burn about the same number of calories you would by jogging. However, you can exercise on an elliptical trainer at any time, no matter what the weather is like outside. In addition, using an elliptical trainer instead of a treadmill or other home gym machine helps you avoid injuring your knees, hips, back and ankles. There are several types of elliptical machines available. By making an informed comparison, you can select the best home gym machine for you.
Comparing Elliptical Trainers:

Measure the room in which you will be using the elliptical trainer. Use a tape measure or yardstick to determine both the area and the ceiling height of the room. When you compare elliptical machines, account for a few extra feet around the machine to allow for setup and positioning of the fitness machine. You will also need to factor in the height of the tallest person who will use the machine. This is especially important if you plan to place the elliptical machine in an area with low ceilings, such as a basement.

Decide if the machine's noise level is a factor. If you plan to use your elliptical machine while watching television, listening to music or with others in the room, you will want to choose one that operates as quietly as possible. When you compare elliptical machines, consider noise aspects as well as other features.

Consider the resistance settings on elliptical trainers. You will want to select an elliptical machine that has a wide span of resistance settings, so you can challenge yourself as your level of fitness increases. The settings should also be easy to use so that incorporating them into your fitness workout is not troublesome.

Compare the other features offered on the elliptical machines you consider. Many will include varying degrees of upper-body resistance or adjustable inclines. Some will offer built-in calorie counters, timers or even MP3 player ports. Think about the features that will help you reach your fitness goals, so you can choose the best elliptical trainer for you.

Keep your budget in mind when you compare elliptical machines. Choose the best-quality trainer within your price range. If you find yourself trying to choose between a premium machine with fewer features and a less expensive unit with more bells and whistles for around the same price, it might be a smart idea to opt for a simpler machine of superior quality.

Buy Elliptical Trainers
Back to Guides Directory