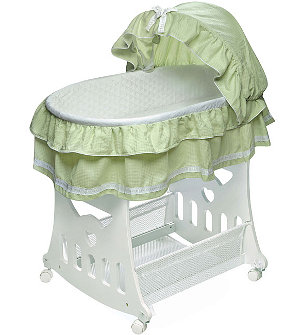 Few things are as much fun as picking out baby's first bed. Every parent hopes theirs will be the baby that sleeps through the night, and picturing your sleeping baby in a cradle is an extension of that dream. There are so many choices in baby furniture that it can be hard to get started; knowing how to compare cradles can put a nervous parent's mind at ease.
Comparing Cradles:

Know how much space you need: Babies are big on personality, but small in size. In general, babies don't require a lot of space until they get a little older. If your nursery will also be your child's bedroom when he gets older, you might want to consider a convertible cradle. Also known as 3-in-1 or 4-in-1 beds, these convert from a crib to a daybed to a full-size bed. If your little one will be sleeping in the room with you, then a more compact cradle might make more sense.

Know what safety features are available: Take a look at the feet of the cradle. If the cradle is on wheels, make sure they can be locked so you're baby stays securely in place while napping. Cradles are generally recommended for use only for a few months; check manufacturer recommendations for intended ages and weights. Make sure slats are no more than 2 3/8 inches apart (this is the standard for cribs and cradles made in the USA and Canada).

Know what style you like: Cradles come in different sizes and shapes; round and rectangular are the most common choices. Round cradles are often the more ornate option, sometimes coming with a canopy that's both decorative and acts as a light blocker when it's time for baby's nap. Rectangular cradles vary widely in size but often fit a standard mattress size. This make finding cradle bedding an easier task.

Know what will match the nursery: Many cradles are made of wood; decide if you want a light or dark finish and proceed with your choice from there. If you hate the look of wood, there are metal cribs and cradles available. Make sure these have rounded edges to protect your little one from sharp points.

Buy Cradles
Back to Guides Directory