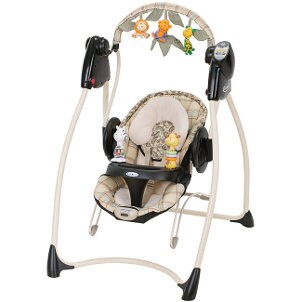 Choosing a baby swing can be an exciting experience, but it can also be puzzling. There are swings that rock and swings that bounce, swings with sounds and silent swings, small swings, big swings, papasan swings, traditional swings, portable swings and the kind you only want to set up once. Because baby swings are available with so many features, they can be difficult to compare; but once you know which features are important to you, there are basic characteristics you can evaluate.
Comparing Baby Swings:

Look at the prices. Higher priced baby swings might be higher quality, or they might offer more features than lower priced swings. With swings and other baby gear, like with any product, you get what you pay for, but since babies grow fast, there's no need to overspend. Keep in mind that if you plan on multiple children, you can get years of use from a single swing, so a bigger investment might be worth it.

Consider the fabric. If your baby loves her swing, and we assume she will, then the fabric needs to be ready to handle spills. Make sure the fabric is durable and can either be removed for washing or can easily be spot cleaned.

Decide where you want to use the swing. Some baby swings are more portable than others. Swings that sit low to the ground are often lightweight but don't offer music or lights. If you're looking for a swing to take to grandma's house, something small might be better; if you have a large living room and plan to let your baby entertain himself while you have a snack (nearby, of course!), then a larger swing with more toys might be more practical.

Consider the power source. Some swings run on batteries alone, some on electricity, and some can run on either. If you're going camping where electricity isn't an option, a battery-powered swing is the obvious choice. If your little guy spends a lot of time in the swing, then changing the batteries all the time might be too much of a hassle. Know your options and where you want to use the swing before you commit to a power source.

Decide which features are most important to you. Is what you really want a fuzzy mobile to entertain your little one? Or is it soothing sounds to help your baby relax? The side-to-side rocking motion some swings offer has been known to calm a colicky baby, and some swings even have colorful lights that can double as a night light.
Baby Swing Tip:

Consider purchasing two swings: one for home and one for the road. You could keep a heavy-duty swing at home for daily use and a more portable version in the car so you'll have one with you wherever you go.

Buy Baby Swings
Back to Guides Directory