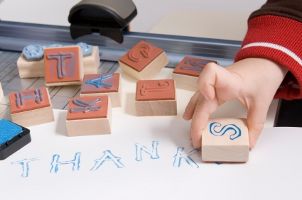 Are you looking for a craft that's fun for all ages? Stamping is an easy and rewarding hobby that requires only a few tools, including paper, rubber stamps and ink pads. You can enhance scrapbook pages, make greeting cards and even add pizzazz to a bedroom wall. To reuse your stamps for a long time, care for them properly by cleaning rubber stamps after each use and before you change ink colors.
Instructions:

Blot stamp several times on scrap paper to remove any excess ink. The less ink left on the rubber surface, the quicker the stamp is to clean. If you're using the stamp with similar colors, such as yellows and oranges, this may be all you need do before switching to the other color and continuing with your rubber stamping.

Roll some stamp-cleaning solution onto the rubber part of the stamp. If your cleaning solution does not have a roll-on top, apply the cleaner to the stamp using a clean cloth. You can also saturate a small, thin sponge and press the stamp into the surface to make sure all the edges and grooves are covered with the solution.

Scrub indentations with an old child's toothbrush to remove residual ink. Wash the bristles of the toothbrush before cleaning another stamp and store it with your rubber stamping supplies for easy access.

Wipe the stamp cleaner off the stamp with a paper towel or soft cloth. To avoid rubbing the stamp and possibly damaging it, be sure to blot the excess cleaning solution off the stamp so that you don't have to scrub too vigorously. Make sure the stamp is clean by stamping it on paper before applying an ink color that may mix badly with any residue on the stamp.
Tips:

Consider using only one color of ink with a frequently used stamp. Memory-type inks are tough to remove, so if you're constantly switching between a light color and a dark color, it might pay to purchase a second stamp.

Use only stamp cleaner to clean your stamps. Other chemicals may destroy the rubber and ruin your stamps.

Avoid soaking your stamps in water, which may loosen the adhesive that holds the rubber on the stamp handle.

View All Stamping
Back to Guides Directory