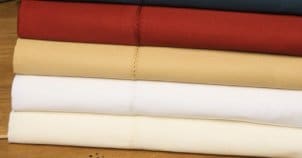 There's nothing like resting your head on soft, fresh pillow shams. Pillow shams bring comfort and style to pillows of all sizes and shapes, but if they aren't cleaned properly, they can turn your pillows into a major headache. Fortunately for you, learning to clean and maintain pillow shams and pillowcases is quite easy. Your pillow shams are an investment, so figuring out how to take care of them should be a top priority when you're thinking about bedding. If you want to keep all your shams and pillowcases looking their best, take a look at the helpful article below, where you'll learn how to clean pillow shams.
Cleaning Pillow Shams:

Remove from pillows. The first step you will want to take when cleaning your pillow shams is to remove them from the pillows they cover. Thanks to pillowcases, pillows don't need to be cleaned often, so there's no need to worry about them when cleaning your pillow shams.

Read the tag. Most pillow shams have tags that include care instruction. Find the tags on your shams and consider the cleaning tips provided by the manufacturer. If your pillowcases don't have care instructions, consider the material they're made of before washing them.

Wash them. The majority of pillow shams are produced from materials that are machine washable. Unless the washing instructions on the tags of your pillowcases say otherwise, you should be safe to throw them in the washer. If you want to ensure that no shrinkage occurs, wash your pillow shams in cold water.

Dry them. After you wash your pillowcases, you will want to dry them. Many pillow shams can be placed in a dryer. If the tag instructions advise against machine drying your pillow shams, hang them out to dry. Placing them in the open air won't just dry your pillowcases; it will give them a fresh, light scent.

Place them on pillows. Once your pillow shams have dried, place them back on the pillows on which they belong. Repeat the process at least every two weeks to ensure fresh, hygienic pillowcases.

Buy Pillow Shams
Back to Guides Directory