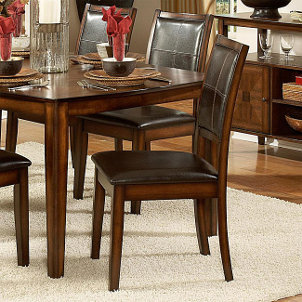 Things You Need:
Soft, dry cloth
Warm water
Mild soap
Furniture polish or cleaner
Oak furniture is a stately addition to any home; keeping it clean can be a challenge but is worth the effort when your oak furniture still looks great years down the road and you can pass it on to your grateful children or grandchildren. Like any wooden furniture, oak furniture requires regular maintenance to keep it looking its best. Read on for simple tips on how to clean oak furniture and you'll have heirloom-quality dining room, bar and bedroom oak furniture for years to come.
Instructions:

Dusting: Start by dusting your oak furniture. It is a good idea to get in the habit of dusting your oak furniture once a week; regular dusting keeps furniture looking fresh and means you can get away with deep cleaning less often. Use a clean, soft, dry cotton cloth to dust your oak furniture without scratching it. If there are spills or the dust is thick enough to require deeper cleaning, try using a cloth you've dampened with hot water and apply some elbow grease. When build-up has been removed, be sure to dry your furniture so you don't end up leaving stains behind instead of a sparkling facade.

Polishing: When simple dusting isn't enough, it's time to break out the big guns. Lemon oil will help get oak furniture clean and is an ingredient in most commercial furniture cleansers. Apply the liquid cleaner to the cloth rather than directly to the furniture itself to ensure even distribution and to avoid staining the oak furniture at the application site.

Maintenance: Furniture polish can be used on most oak furniture and can add a desirable sheen. When considering whether or not to polish your furniture, keep in mind that polish can leave behind a slight residue that can attract and hold dust. If you choose to polish your oak furniture, it's even more important that you dust it regularly.
Warning:

Make sure to use these cleaning methods only on finished furniture. Any moisture can result in a stain on unfinished oak furniture.

Buy Dining Room and Bar Furniture
Back to Guides Directory