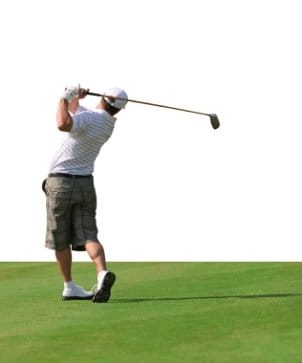 Golf shoes are a very personal piece of equipment. Once you find a pair of golf shoes that you like, you won't want to part with them. In order for your golf shoes to last more than one season, you have to take care of them. That includes giving them a good cleaning every month or so. A pair of golf shoes is an expensive piece of your golf equipment, so you'll want to clean them regularly, which helps them to perform well for as long as possible.
Cleaning Golf Shoes:

Remove debris from your golf shoes. Take a stiff brush and knock off any old mud and debris on your shoes. The stiff brush will get rid of dried particles, vegetation and dirt you may have picked up on the golf course. Unscrew the spikes on the bottom of each shoe to get rid of any debris stuck there.

Erase the grass stains. Use a damp cloth to get rid of old grass stains that may be on the outside of your shoes. Depending on how long they have been there, you may have to rub for 45 seconds to a minute before you get the stains out. Then use a warm and soapy solution to give the shoes a good cleaning. This should take about three minutes to four minutes per shoe.

Rinse the soap solution off with a wet washcloth. Then take a towel and dry your shoes. You don't want any water damage, so air drying is not recommended unless you are doing it outside on a hot day.

Apply a coat of polish to your shoes. This will help the shoes look like new as well as make you feel proud while wearing them on the golf course.

Waterproof your golf shoes: Apply a coat of waterproofing or seasonal protection if you are coming to the start of the spring or fall golf season. You are much more likely to play golf in wet and stormy conditions in the spring and fall, and a coat of waterproofing will help your shoes last as long as the rest of your golf equipment.

Buy Golf Shoes
Back to Guides Directory