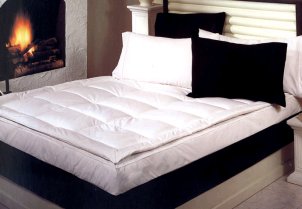 Things You Need:
Featherbed cover
Down cleaning product
Stain remover pen
Spray bottle
Microfiber towels
Down featherbeds provide an additional layer of comfort between you and your mattress. If your bed produces more aches and pains than dreams, a featherbed is a good solution. Featherbeds should last for many years, depending on the quality of the feathers, properties of the cover and use. This article should help you get a grasp on how to clean down featherbeds.
Cleaning Featherbeds:

Know your goods. The first style of featherbed is composed of feathers inside a baffle or square-channeled bag. The other is a pillow top, fashioned similarly to a pillow-top mattress: The bottom layer has several inches of regular feathers, and a top cushion is attached that contains only down, the softest of feathers. The first kind of featherbed is almost like a down comforter, only with much more fill. The second is closer in composition and density to a mattress and is heavier.

Read the label on your featherbed. The majority of manufacturers suggest professional dry cleaning. Some businesses clean down specifically, but it is costly; you might pay as much to clean and refurbish your featherbed as to buy a new one.

Wash light featherbeds on your own. Wash inexpensive, lightweight down featherbeds on your own but with caveats: You may ruin the feathers and the loft. Use down soap and follow directions. Select a soap that won't leave a residue. Use cold water in a large-capacity washer and put the featherbed through the spin cycle more than once if you can. Dry it in a warm dryer and expect to run it at least three full cycles.

Pillow-top featherbeds require extra care. Clean your pillow-top featherbed in a couple of ways. Use a spot-treatment fabric pen for small stains. They remove most food-related stains, but organic stains will probably leave a mark. Another method is to use a slightly dampened cloth and diluted cleaner. Dry the featherbed with a thick microfiber drying cloth. Allow the featherbed to air dry completely before you place it back in its cover.

Air your featherbed frequently. Hang it on a clean railing outside in the sunshine and keep flipping it around for loft.
Featherbed Tip:

Buy a protective cotton cover when you buy your featherbed. They're easier to clean than entire featherbeds.

Buy Featherbeds
Back to Guides Directory