by C.M. Mackenzie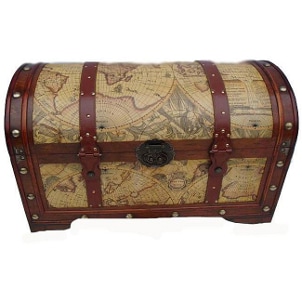 Things You Need:
Vacuum cleaner with attachments
Drop cloth
Water
Soft dusting cloths
Wood oil or polishing spray
Most hope chests are made of wood, and many are made from cedar, as this wood naturally offers some protection to its contents against moths and other insects. If you take good care of a hope chest, it can last for generations. An important part of this care is cleaning. Cleaning a hope chest is much like cleaning other types of wood furnishings, including dressers. You should avoid soaking the wood and should, whenever possible, use products specified for use on wood (and safe for the wood's finish).
Cleaning a Hope Chest:

Remove items from the hope chest. Spread a drop cloth on the floor and carefully move the chest on top of the cloth. The cloth will help protect your floors from dust and any polishes you might use on the chest.

Vacuum. Vacuum the inside of your hope chest with a handheld vacuum cleaner or a vacuum with hose attachments. This is usually the easiest way to get loose dirt and debris out of the bottom and the corners of the chest.

Wipe the hope chest clean. Dampen a lint-free dusting cloth. Wipe down the interior of the chest, including the interior of the lid. The cloth should only be damp enough to pick up dirt; avoid wetting the wood too much. Switch the cloth to the clean side or get a new cloth when the one you are using becomes soiled; otherwise, you are simply smearing the dirt around.

Keep the lid open and allow the interior to dry. While the interior is drying, go over the exterior with a damp, clean cloth. Dry the exterior next with a dry cloth and then apply furniture polish. Spray a cloth with the polish and wipe it over the chest's exterior.

Polish the wood. Use a clean cloth to apply a small amount of wood polish to the interior. If the storage chest is cedar, you can use a little cedar oil instead of furniture polish. If using cedar oil, place two or three drops on a clean cloth and wipe it quickly over the interior of the chest.

Clean the hardware. Clean metal hinges and other chest hardware by dusting them with a soft cloth. Use a metal polish, applied with a soft cloth, if any hinges are starting to tarnish. Allow the storage chest to dry fully, inside and out, before refilling it.

Buy Dressers
Back to Guides Directory