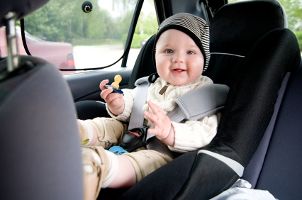 You know your baby's car seat keeps him safe when you're on the road, but did you know that dirty baby gear can harbor bacteria and germs? Keeping car seats clean and sanitized will help prevent sickness and help keep your car cleaner, too. The following guide will teach you how to clean a car seat so that you can keep your little one safe in his infant car seat.
Cleaning a Car Seat:

Remove from car: Make sure you have plenty of space and a well-lit, ventilated area to clean your baby's car seat. The driveway, garage or backyard is perfect. Place a towel or tarp underneath the car seat to protect floors from water and soap if you are washing the baby car seat inside or to protect the bottom of the car seat from getting dirty and scratched if you are washing it outside.

Vacuum: Use an upholstery attachment on your vacuum cleaner to vacuum up all crumbs, dust and debris on the baby car seat. Pay special attention to the seat, back and other upholstered areas on the car seat. You may also want to vacuum out cracks and crevices on the car seat, since these areas will be hard to reach with a cloth or sponge.

Clean fabric: If you can completely remove the seat cover and machine wash it, this is preferable. You can also gently clean the fabric by hand with a damp cloth, warm water and gentle soap. Clean the car seat fabric by gently scrubbing in circular motions. Spot clean stains with a small amount of fabric spot cleaner.

Scrub plastic: The plastic parts of your infant car seat or booster seat can get just as dirty as the fabric. Wipe down all the plastic portions with a damp cloth and warm water. To get the car seat extra clean, add a little bleach to the water to gently sanitize the plastic.

Allow to air dry: To prevent the growth of mildew and mold on the clean car seat, allow it to dry completely before putting it back in your car. Place the infant car seat or booster seat in a well-ventilated, preferably sunny, spot where it can dry completely and quickly. You can remove excess water from the car seat cushions by gently applying pressure with a dry towel.

Buy Car Seats
Back to Guides Directory