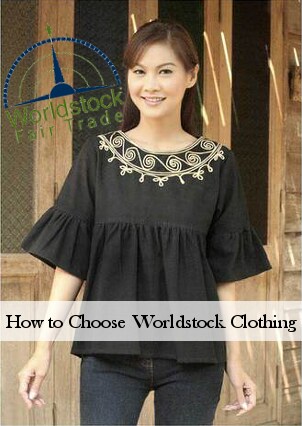 There are a lot of beautiful, distinctive items available through Worldstock Fair Trade, and clothing is no exception. Amazing wardrobe pieces are created by artisans throughout the world using traditional techniques and local resources. When you're shopping for Worldstock clothing, shoes, and accessories, keep these tips in mind while you're deciding which items to purchase.
Buying Worldstock Clothing:

Learn the story. Each Worldstock Fair Trade item is handmade by an artisan, and the piece of clothing you choose has its own story about how and where it was made and by whom. Look for the "Story Behind the Art" section in the product description to learn about the artisans who make each piece of clothing. Maybe a certain story speaks to you and helps you choose which item you want to purchase.

Pay attention to material. One of the benefits of buying Worldstock clothing is that exotic and hard-to-find materials often are used. Anything from organic cotton and bamboo cloth to seashell or coconut wood buttons give the clothing character. Instead of a synthetic sweater, look for one knit from alpaca wool. Instead of a polyester scarf, one made from real pashmina wool or lightweight silk will give your clothing a quality you rarely find in mass-produced items.

Look at the details. One of the benefits of buying Worldstock is that many of the items are handmade. This gives an unparalleled level of quality to the clothing you're buying. Pay attention to the little details of the clothing you're buying. Does it have hand-embroidered designs or hand-dyed fabric? Local traditions and techniques can also be made apparent through the small details. If you're deciding between a few different pieces, choose the items with the highest quality and most unique handcrafted designs.

Work it into your wardrobe. One of the challenges of buying handmade clothing is fitting it into the wardrobe you already have. Luckily, an embroidered blouse or detailed wool sweater can always be paired with basic skinny jeans, and a patterned skirt can be worn with a basic black top. To get the most wear out of your Worldstock purchase, look at the item and make sure you have several pieces in your wardrobe that you can wear with it. The last thing you want is a beautiful piece of clothing just sitting in the back of your closet.
What Do You Want to Do Next?

Shop for Worldstock Clothes
See All Worldstock Clothing, Shoes & Accessories
See All Guides
Read More Online Shopping Guides
Get More Comparison Shopping Tips