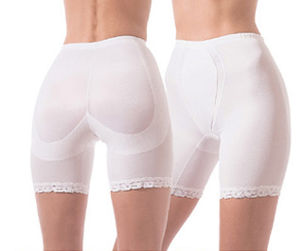 You bought an elegant evening dress to wear to a performance, but there's just one problem: You've eaten one too many cookies this season and your tummy is anything but flat. Have no fear: Shapewear is here! Whether you want to slim your stomach, thighs, bottom or other problem areas or just want to create sleek curves, women's shapewear can help you achieve your goal. Follow these tips to select the perfect shapewear and get ready to slip into your new dress.
Choosing Shapewear:

Decide which style is best for your body. If you want shapewear that only slims an area of your body, look for slips, corset or bustier styles, briefs or thigh bodysuits. These allow you more comfort and less compression, and they are also less expensive. Bodysuits and body briefers, which cover most of the body, shape problem areas and smooth the entire body. If you want to fit into a smaller size or at least look that way, bodysuits offer the most support.

Consider your comfort level. Because body briefers and other shapewear styles are designed to smooth bumps and bulges, they can often be tight and confining to wear. To find a style you will be able to wear all day without pain, look at the control level on the label. Light control provides the same support as control-top pantyhose, while moderate control contains more spandex and some control panels. Firm control minimizes your body, but it can also be uncomfortable to wear all day. Extra-firm control, the highest level, can include boning, not unlike a traditional corset.

Get the right fit. You may be tempted to buy a smaller size in shapewear so that you look slimmer, but don't make this mistake. Shapewear that is too small will be impossible to wear for long periods of time, and it can also make it difficult to breathe or move. Instead, find your bra and panty sizes and look for a shapewear size that will fit. Take your waist and hip measurements for shapewear that fits the lower part of your body. For example, a woman with a 25-inch to 26-inch waist and 35-inch to 36-inch hips who wears a size five panty would need a small shapewear garment.

Look for the right fabric. If you live in a climate that is warm most of the time, consider buying women's shapewear in cotton or other breathable fabrics. You should also consider this if you get hot easily or sweat frequently.

Think about the features. Many shapewear garments offer control panels and seams that nip your body in and give the illusion of curves. Look for one that will add extra support in the areas you would like to slim. If you're pear-shaped, for example, look for shapewear styles that have side panels and will lift your bottom.

Don't settle for ill-fitting shapewear. If your shapewear is not smooth everywhere, does not stay in place or binds your legs or crotch, find a different size. You also need to replace your shapewear if it begins to roll down from your waist or bunch up on your legs.

Buy Slips and Shapewear
Back to Guides Directory