by M. Haller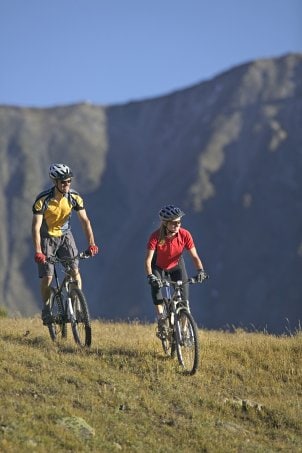 When choosing winter cycling apparel, keep in mind how cold the weather you'll be cycling in is. Choose apparel that is appropriate to the weather and that fits you well. Too many air pockets can make you cold, as can clothing that is too tight. Winter cycling can be a fun sport with the right clothing. Biking in winter can be comfortable with the right apparel.
Cycling Apparel for Winter:

Layer your clothing. You're likely to warm up as you ride your bicycle, so it's nice to be able to take off a layer. Start with a moisture-wicking base layer on your torso. The base layer will be closest to your skin, so the material should not be cotton, as that will leave you cold and clammy as you sweat. Try fabrics such as silk, cashmere or synthetic fabrics. These shirts will be labeled or described as "base layers" to help avoid confusion. Follow this with a middle layer to insulate you and a waterproof outer layer. If it is not raining or snowing you'll remove the outermost layer.

Take care of your hands by wearing the correct gloves. You need your hands to brake and shift gears, and winter winds can make them colder than when you're standing still. Look for gloves that insulate and protect to the appropriate temperature range. Stay away from sub-zero gloves, for example, if you only ride your bike in temperatures down to about 20 degrees, as they'll only add bulk. Choose fabric you prefer, whether it's fleece, wool or another material, with a waterproof outer layer.

Purchase the correct gear for your feet. In particularly cold conditions, you'll want both sock and shoe covers. Sock covers are lined with a waterproof inner layer and help keep feet dry while participating in winter sports. Wear wool or synthetic wool socks, which allow your feet to breath. Be sure your shoes are not too tight with the thicker socks, or this will make your feet colder.

Protect your head from the cold by wearing the right cap. You'll need a cap that you can fit under your helmet. Another option for colder temperatures is a cycling balaclava, which fits easily under your helmet and covers your neck and sides of your face as well. A balaclava made specifically for cycling generally has a very thin inner layer of fleece with an outer layer of spandex.

Protect your legs with cycling tights. These insulated tights will help keep your legs warm. For particularly cold days, pair these with a rainproof and windproof layer to keep your legs dry as well. If you feel you need an additional base layer, you can pair tights with synthetic long underwear underneath the tights.

Buy Cycling
Back to Guides Directory