How to Choose Winter Coats for Kids
by April Sanders
Published April 29, 2010 | Updated November 26, 2014
Choosing winter coats for kids can be almost as difficult as getting your children to actually wear them. Make the process easier by shopping for girls' outerwear and boys' outerwear with your children. Here are the tips for choosing the best coats.
Choosing Children's Coats: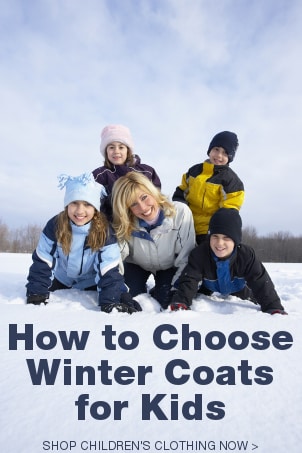 Shop Children's Clothing ▸
Determine your child's correct size.

Do not be tempted to buy a size larger so your child can wear the coat again next year; kids grow at different rates. A coat that is too big can be uncomfortable to wear. The sleeves should cover the wrists, and the coat should be snug but not too tight. Your child should have enough room to wear a sweater and other winter clothing underneath.

Set a budget.

Outerwear comes in a wide range of prices, depending on the fabric of the coat. Goose-down coats tend to be a bit more expensive, while lined jackets are simple and usually inexpensive. Setting a budget ahead of time means you won't be tempted to buy something out of your price range. Make sure to look for coupon codes and see if there are any current sales on outerwear, especially if you're shopping for multiple children.

Think about the climate.

If your winters are rainy, look for waterproof coats that are long enough to cover your child's bottom. Hoods are a must for keeping rain out. If you live in an area where snow and ice are common in winter, look for added insulation. Be sure that your child's coat will not become saturated quickly, especially if he or she likes to build snowmen and play in the snow; you'll want a full snowsuit for your child, and sometimes you can get a better deal if you buy the coat and pants as a set.

Let your kids have a say on style.

The more your child likes a coat, the more likely he or she will actually wear it. Girls' winter coats tend to come in feminine colors like pink and purple, and they often have rhinestones and hoods lined with faux fur for embellishment. Boys' winter coats are often designed for play, with lots of pockets and bright colors. If your child loves a coat that is also high-quality and a good price, you should get it -- even though you might not like the color or design. If you simply can't reach a compromise on appearance, try letting your child pick a hat, scarf, or mittens in a color he or she likes.

Consider purchasing two coats.

If your climate changes rapidly, your child might need one coat for fall and spring and a heavier coat for the winter. As an alternative, children's winter coats sometimes have liners that can be detached and worn alone during milder weather. Convertible winter coats are also available, some with removable hoods, too.