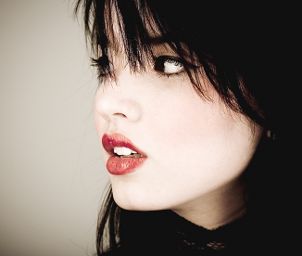 Lipstick can be the perfect makeup accessory for every outfit. Sexy red lip shades lend appeal to little black dresses while nice pale pinks make basic outfits feminine and flirty. When you are selecting lipstick colors, keep a few things in mind to ensure that the lipstick will add to your look and not distract from or ruin your entire ensemble. Use these tips to find the perfect lipstick color for your makeup collection.
Choosing Lipstick Colors:

Determine your skin tone. Choosing the right lipstick color for your skin tone can enhance your beauty and bring light and life to your face, while choosing one that doesn't go with your skin tone can wash you out or make you look like you are playing dress-up. If you burn easily in the sun and have a collection of makeup in all the light shades, then you have fair skin. If you tan well and have pink or golden undertones, then you have medium skin. If you have a deep tan or ebony complexion, then you have dark skin. Your skin color will determine what kind of lipstick shades you can wear gracefully.

Pick out the right shades for your skin. If you have fair skin, choose peachy pinks, deep berries, wine reds and golden browns while staying away from bright pinks. If you have medium skin, choose reds and pinks with a touch of brown and sheer shades while staying away from pale browns. Individuals with dark skin can wear almost any lipstick color, but dark burgundy and plum colors, rich browns and sheer pinks are especially flattering. Though these guidelines can help you choose lipstick that will flatter your skin tone, don't feel bound by the rules and automatically toss or avoid certain shades. There are exceptions to the rules, and experimenting with shades is a good way to find out what lipstick is truly best on you.

Organize. It is a good idea to sit down and sift through your lipstick colors. Test shades to see which ones are great for you and which ones you really could do without. Add your new lipsticks to the bunch and coordinate them all by color or occasion. You can use small, round labels to help you keep track of which lipsticks are best for evening or which shades are your favorites. Don't keep lipsticks that you won't wear; getting rid of them makes room for new lipstick that you really like.

Learn how to wear your lipstick. Once you have selected your favorite lipstick shades and organized them so they will be easy to use, it is important to know how to wear your lipstick for the best look. Balance is important when applying makeup. If you choose a bright red lipstick shade, for example, it is a good idea to keep your eye makeup minimal and avoid using a lot of bronzer or blush. This technique will allow your lipstick shade to shine rather than making you look too made-up. It is also helpful to consider the undertones of your lipstick colors. For example, if you have a pink shade with brown undertones, choose bronze eye shadow instead of grey. If you are unsure of how to pair your lipstick shades, experiment and test to see what looks best.
Lipstick Tip:

When you are testing a shade of lipstick for the first time, it is important to look at it in a well-lit area. Natural light is best for testing all types of makeup.

Buy Makeup
Back to Guides Directory