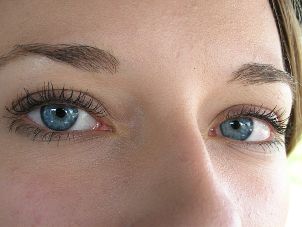 The skin around your eyes is some of the most sensitive skin on your face. Without quality skin care, eye-area skin can easily develop wrinkles, puffiness, dark circles and dry patches. These issues can get worse with age, and your eyes can wind up telling everyone how old you are. Using quality eye cream can help prevent wrinkles and treat dark circles, keeping your eyes bright, fresh and youthful. Let us help you choose the best eye cream for your skin-care routine.
Choosing the Best Eye Cream:

Look for an eye cream that hydrates. Dryness is a common problem for sensitive eye-area skin. Using a hydrating eye cream can help reduce the negative effects of dry skin, including eye irritation and discoloration. There are many hydrating eye products available in a wide range of prices.

Consider products made for sensitive skin. When using a product around your eyes, it is important to find one that does not burn or irritate the eyes or the eye-area skin. Products that use the word "sensitive" or the phrase "tested by ophthalmologists" are more likely to be gentle on your eyes and eye-area skin.

Choose an eye product that addresses your specific needs. There are many eye creams available, and each of them is formulated to treat different problems. If you are looking to reduce the appearance of wrinkles and sagging, choose an anti-aging eye cream. If you want a product that will help treat under-eye circles or puffiness, look for products that are made specifically with these concerns in mind. Some products treat a combination of problems and concerns and can make your skin-care routine easier.

Read and understand ingredients. When choosing the right eye product, it is a good idea to consider the ingredients. Water should be a main ingredient for products that hydrate, and in most quality eye creams, it is one of the first ingredients listed. Glycerin, shea butter, oils and vitamins are also common in eye creams and can be very beneficial. Natural ingredients are great for use around sensitive eye-area skin, and antioxidants can help with a number of common eye-area problems. Firming eye creams may contain retinol, alpha-hydroxy acids (AHA), copper peptides, caffeine or vitamin C. Vitamin K, glycolic acid and Kojic acid are helpful for combating dark circles. Restorative night creams may contain vitamins A, C or E or collagen.
Tips:

Although few products are still tested on animals, it is essential to check labels for this information if it is important to you.

Some eye products contain SPF, which can help reduce sun damage. If you do not wear a daily sunscreen, an SPF eye cream can benefit your sensitive eye-area skin by protecting it from the sun.

The content on this site is not intended to substitute for the advice of a qualified physician, pharmacist or other licensed health-care professional. The products may have additional information and instructions on or inside the packaging that you should carefully read and follow. Contact your health-care provider immediately if you suspect that you have a medical problem.

Buy Skin Care
Back to Guides Directory