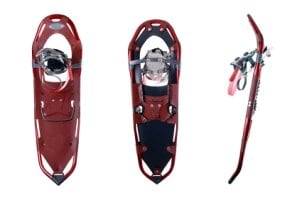 Snowshoeing is an excellent way to brave the cold weather and get outside for some invigorating winter exercise. Picking out the right snowshoes for your intended activities will help you to enjoy the best performance while participating in snow sports. Choose carefully, and you'll enjoy your new snowshoes for many years to come.
Instructions:

Decide what type of snowshoeing you intend to do. Many who snowshoe simply want to walk along flat nature trails or make use of local Nordic center trails. On the other hand, others consider snowshoeing a true snow sport, taking long, high-intensity excursions into the backcountry. Decide what exact activities you intend to do with your snowshoes.

Find a snowshoe that corresponds to your intended use. Snowshoes come in a number of different styles including recreational, backcountry, running and women-specific. Each snowshoe is shaped and designed for maximum performance for its specific use. For most beginners, a recreational snowshoe will prove a cost-effective and ample solution. However, if you intend to trek up steep backcountry terrain, you'll want to spend the money on snowshoes designed for that specific use. Women should also look at women-specific snowshoes, which are designed to reflect a woman's smaller sizes and narrower feet.

Compare construction. Most snowshoes available today use aluminum framework and synthetic decking. Some companies also offer composite snowshoes, which are lighter and more compact. Composite snowshoes use separate tails to increase size and flotation. Classic wooden snowshoes are also still available for those looking for a more traditional snowshoe experience.

Consider if you'd prefer a fixed or rotating binding. Rotating bindings allow the snowshoe to pivot and the tail to drop as you snowshoe, letting snow slide off and allowing for easier climbing. Fixed bindings don't pivot very much and keep the heels level with each step, making for a more natural stride on flat terrain and making it possible to walk backwards.

Find the correct size. Size is based on your weight. However, you'll need to consider whether or not you'll be carrying a backpack and gear; factor this weight in as well as your personal weight. Each snowshoe should have a sizing chart that will provide the appropriate length for your weight.

Factor in the snow and terrain conditions where you intend to snowshoe. Snowshoe sizing is presented as a range (for example, 150 to 200 pounds); therefore, there may be several sizes for your weight. If you experience very light, deep, dry powder in your area, you'll want to opt for a larger size. Larger snowshoes provide more surface area to give you better flotation on the snow, something that is important in deep powder. On the other hand, hard-packed and wet, dense snow don't necessitate the same flotation, so you can opt for a smaller size that is rated for your weight. Terrain can also influence your decision, as narrow or steep trails will make a smaller snowshoe a better choice.

View All Snowshoes
Back to Guides Directory