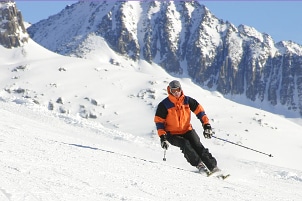 Everyone has different needs when shopping for snow pants or bibs. Some skiers and riders look for snow pants in bold colors and patterns to stand out on the slopes; others think snow pants are supposed to keep you comfortable. Fortunately, it's easy to find snow pants that can do both.
Choosing Snow Pants:

Consider your activity. Think about when you'll be wearing your snow pants. If you are going to be skiing or snowboarding, the high activity level will keep you fairly warm, but you'll still want to stay dry. Skiers and snowboarders will also want articulated ankle cuffs to accommodate bulky boots. If you're hunting or winter camping, you'll want warmer snow pants because you won't be producing as much heat through movement.

Determine how protected from water you need to be. Check for one of these fabric descriptions: waterproof, water-resistant or water-repellent. Waterproof fabric will offer you the best protection from rain and snow. Water-resistant fabric keeps you dry in most conditions but can become soggy and saturated in extreme weather. Water-repellent fabric offers the least amount of protection from moisture. Buy snow clothes with the appropriate level of water resistance for the weather you are likely to be in.

Make sure your snow pants have gaiters at the ankles. There should be a thin nylon layer with an elastic band that goes over your boot. These are designed to help keep snow from going up your pant leg or down inside your boots.

Determine the level of insulation you'll need in your snow pants. Local climate and activity level are both factors in the amount of insulation you'll need. Active skiers and riders will want to choose lighter weight insulation since they move around a lot, even when they're playing in colder climates. Skiers and snowboarders often prefer to wear ski pants that have vents that can be opened or closed to adjust to the range in temperature between coming down the hill and riding the lift back up.
Snow Pants Tip:

Loose fitting, lightly insulated snow pants that you can wear an insulating layer under offer greater versatility than a heavily insulated pair of snow pants.

Buy Snow Pants and Bibs
Back to Guides Directory