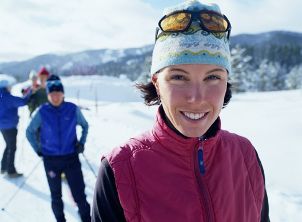 A good pair of ski pants can mean the difference between a fun, comfortable day on the mountain or a cold and wet skiing experience. While many snow pants are marketed as waterproof, knowing what to look for when choosing ski pants will help you find quality men's pants and bibs and women's pants and bibs. You'll reap the rewards next time you hit the slopes in your new ski clothing.
Instructions:

Choose pants that are made out of nylon or polyester. The highest quality women's ski pants and men's ski pants are made from nylon or polyester microfibers. This lightweight fabric whisks water away from the skin and is woven tightly enough to prevent wind from penetrating the ski pants. Nylon ski pants are also resistant to ripping.

Make sure the ski pants you purchase have been treated with a waterproof coating. The best women's ski pants and men's ski pants feature coatings that both protect the wearer from water and allow the fabric to "breathe." Ski clothing with this coating is durable and warm as well. Snow pants labeled as water-repellent or water-resistant are also an excellent choice. Water-resistant skiing equipment will protect you from getting wet in all but extreme conditions, but perspiration will not evaporate easily.

Look for ski pants that have a layer of insulation, such as down or fleece. This layer is important in skiing equipment for keeping warm and wicking moisture away from the skin. Look for reinforcement in the knees and seat, as these areas are flexed constantly when skiing.

Decide which options are important to you based on your skiing habits. Some pants fit tightly and look sleek and are usually designed for skiing at high speeds. Other ski accessories include pockets, which are handy for carrying keys or hand warmers, and elastic waistbands, which are often more comfortable than fitted pants. If you ski in deep snow, choose ski accessories such as gaiters at the bottom of the pants, which extend to cover the top of the boot and prevent snow from entering the pants.

View All Men's Ski Pants and Bibs
View All Women's Ski Pants and Bibs
Back to Guides Directory