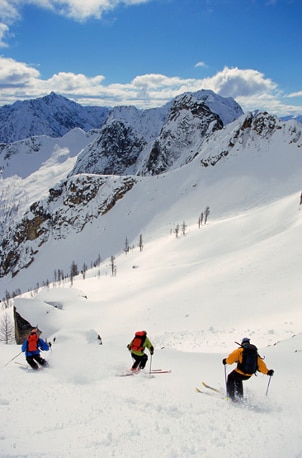 A lot of personal choice comes into play when choosing ski clothing. Ski and snowboard clothing can range from a long-sleeve, one-piece outfit or ski bibs over a shirt, to a two-piece matching outfit consisting of ski pants and a ski jacket. Personal style, however, should not trump comfort. Ensure a fun, comfortable day on the slopes by choosing ski apparel that is easy to move in and keeps you warm and dry when skiing.
Instructions:

Find a base layer. The base layer is the layer of clothing that will lie next to your skin and wick away moisture. Although this layer can be helpful in providing extra insulation, the primary function is to pull sweat away from your body, keeping your skin dry, preventing you from getting a chill while riding the ski lift. This means purchasing a set of tight-fitting thermal underwear in a lightweight, synthetic fabric, such as polyester. Cotton thermal underwear is not recommended as it does not dry quickly or insulate when wet.

Cover your base layer with an insulating top and pair of pants. This is the second layer of clothing you should choose, and it is usually made of down, pile, wool or fleece. The primary function of this layer is to keep you warm. The insulating layer might be the inner lining of a ski jacket (often detachable from the outer jacket layer), a wool ski sweater or a fleece jacket.

Purchase outerwear. This is the waterproof or water-resistant outer shell. Some features you might want to consider in a ski jacket are zippered pockets, pit vents or a powder skirt. A key feature that makes ski pants a necessity over just any waterproof pant is that the ankle cuffs are large enough to fit over ski boots, and ski pants typically have attached gaiters to keep snow from drifting up the pant legs.

Finish by choosing ski gloves and something warm for your head. Select a quality pair of waterproof ski gloves. You might want ski gloves that can be tightened at the wrists to prevent snow from entering. A hat that covers your ears will keep you much more comfortable on the slopes and protect you from the wind. Make sure the hat is not too bulky if you are going to wear a helmet, which is always recommended when skiing. During colder weather, a balaclava, which covers most of your face, will help keep you warm.

View All Ski and Snowboard Clothing
Back to Guides Directory