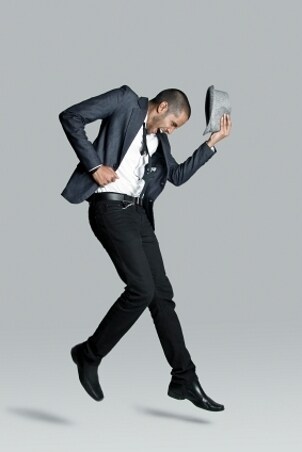 You can really shine on your wedding day when you choose modern men's wedding jewelry. The contemporary groom doesn't miss an opportunity to add style to an outfit or to his wardrobe. A stunning new watch or an ultramodern men's wedding band can give your wedding day ensemble loads of personalized style. You can choose from a wide variety of men's wedding jewelry or simply select the coolest wedding band available to ramp up your look on your wedding day and beyond. Use these tips to shop for modern wedding jewelry and contemporary men's wedding rings.
Modern Men's Wedding Jewelry:

Wedding rings: The reign of the traditional, unadorned gold men's wedding band is coming to an end. Cool new wedding rings are available in a variety of styles. To show your personal style in a simple way, choose a men's wedding ring made of one of the industrial metals. Titanium, tungsten, and stainless steel are incredibly durable metals used in a variety of industries. All three metals are now being used to create jewelry; wedding rings made of tungsten, stainless steel, and titanium are very hip. Funky designer wedding bands are also contemporary. Look for laser-cut rings and colorful bands in men's jewelry.

Cuff links: Cuff links are very traditional, but modern styles are available to give your wedding tux a fun and exciting punch of fashion. Novelty cuff links are especially eye-catching. Look for emoticon cuff links, cocktail cuff links, and animal cuff links to add style to your wedding jewelry assortment. For something a little more elegant, consider gemstone cuff links. Colorful gemstone jewelry is a fun, contemporary addition to your wedding day look.

Necklaces: Instead of a tie, many modern grooms opt to wear a necklace. This men's jewelry option is especially fashionable at a casual wedding. If you're having a beach wedding and wearing a breezy linen ensemble, try wearing a hemp necklace or braided leather jewelry.

Pins: Pins can take the place of a traditional boutonniere on a modern groom's wedding day ensemble. Fancy diamond and gemstone pins that match the bride's wedding jewelry are especially charming.

Buy Men's Wedding Bands
Back to Guides Directory