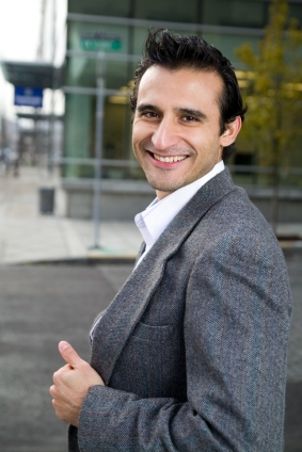 If you want something dressy to wear with jeans, look for men's blazers that add more class to your fashion than a hoodie or sweatshirt. Polish up dress slacks for work, kick a plain T-shirt up a notch or add a special touch to a crewneck sweater with a blazer that fits you well. Follow these tips to find a style that flatters your body type and looks good with the rest of your wardrobe.
Choosing Men's Blazers:

Pick a flattering color. Men's blazers usually come in neutral colors, such as grey, navy blue and black, and these colors go well with both jeans and dress pants. Buy a black men's blazer to wear over a vintage band T-shirt with faded jeans and sneakers. Find a navy men's blazer you can layer over a crisp white or pinstriped button-up shirt and either jeans or dress pants for a nautical look. Look for a grey or black men's blazer to make a good impression at work. Buy a navy men's blazer with gold or brass buttons to stand out and give a sophisticated prep-school vibe.

Find the right fit. A blazer should emphasize strong shoulders and elongate your body, so make sure to purchase a style that doesn't fit too tightly. Look for a men's jacket that is roomy enough for you to lift your arms and stretch easily. It should not pinch in the shoulders and back. If you have a full stomach, look for a double-breasted blazer or a men's jacket with lower buttons so you can button your blazer easily. A double-breasted blazer will slim your body and will also be dressy enough to wear on formal occasions, such as business dinners or weddings.

Buy a versatile style. A leather blazer with a simple, tailored cut looks good with both jeans and dress pants, as does a linen blazer with classic buttons and clean lines. To get the most mileage out of your wardrobe, buy a black leather blazer you can dress up with a cashmere turtleneck and dress pants for work or a party, or make more casual with distressed jeans and a white T-shirt. A linen blazer is perfect for dressing up a button-up shirt and jeans or wearing with a shirt and tie for work.

Buy Men's Blazers
Back to Guides Directory