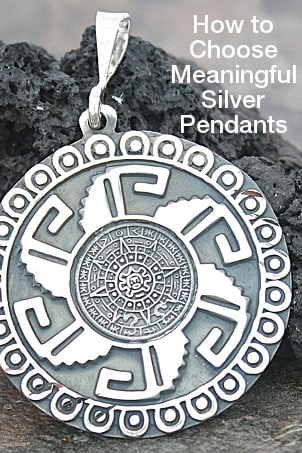 Because they're available in so many different styles, sterling silver pendants are perfect for personalizing a look and expressing who you are. Whether you're shopping for yourself or you're looking for a great jewelry gift, be sure to choose a necklace that will send the right message.
Choosing a Silver Pendant:

Commemorate your travels: Vacations change us, usually for the better. Your favorite vacation will stay with you for years and even become a part of your personality. To express this new side of yourself, choose silver pendants that showcase landmarks from your favorite destinations or the new things you tried there. If learning to surf in Hawaii changed you forever, wear tropical pendants and surfer pendants to remember the fantastic time you had. If you fell in love with Paris, look for an Eiffel Tower pendant.

State your name: Your name is often the first thing you own when you are born. Personalized necklaces are a way to proclaim your identity, especially if you feel a strong connection to the meaning of your name. You could wear the initial of your first name or last name, or you could look for a nameplate necklace with your full first name, which are usually available for the most common names.

Collect your birthstone: Birthstones offer a fun way to celebrate a birthday all year long. Silver necklaces that incorporate the authentic gemstone that represents your birth month are both stylish and valuable. If you don't want to splurge on the genuine gem, consider cubic zirconia pendants. Cubic zirconias can be dyed almost any color to stand in for more expensive gems in a variety of necklaces and other jewelry.

Share your beliefs: Your beliefs are close to your heart, so why not wear the symbol of them there? A cross, a tree of life, an angel, a hamsa: Whatever symbolizes your faith or philosophy can be worn as pendant It's a way to tell your story without saying any words, to remind yourself about the things that have significance to you, to feel connected to your heritage or to your support system, or even to ask for someone to watch over you.

Boast a bit: Sterling silver pendants allow you to showcase your talents and your lifestyle in a way that clothing may not. If you have just acquired your bachelor's degree in literature, spoil yourself with a sterling silver pendant shaped like a book. When you win a big tennis tournament, mark the accomplishment with a tennis racquet pendant. Silver pendants can be as meaningful as you make them. When looking for a nice jewelry gift, help someone you know show off their accomplishments. When your daughter has her first child, surprise her with a silver mother-and-child pendant.
What Do You Want to Do Next?

Shop Sterling Silver Pendants
Shop All Sterling Silver Necklaces
Shop All Pendant Necklaces
See All Guides
Read More Jewelry Guides
Learn More about Necklaces