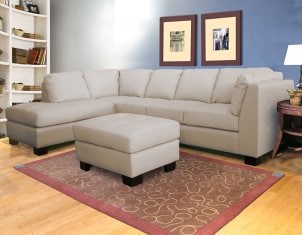 It's fun to dream big when you are choosing living room furniture, but you will also need to be practical, and that doesn't only mean sticking to a budget. Take a look below to learn how to choose living room furniture.
Choosing Living Room Furniture:

Analyze how the room will be used. If it's an area for occasionally entertaining guests, you can go for dainty furnishings and delicate fabrics. On the other hand, if it serves as a regular hangout for your family, you'll want to change those adjectives to sturdy and stain resistant.

Coordinate styles. Use the major architectural features in your room to guide the style of your living room furniture. If you have a large rustic fireplace, consider buying woodsy cabin decor. On the other hand, you may want to lean toward modern furniture if your windows look out on a city scene. Or you can get more formal if the living room is adorned with ornate molding.

Consider comfort. Select your sofa and chairs with comfort in mind. Choose furniture made with high-quality materials and you will feel the luxury every time you relax.

Select seating. Select a design for your seating that fits in with your overall style. When it comes to fabrics, choose according to the level of use the couch or chair will endure. Well-tanned leather may hold up better to wear than many fabric coverings. If you go for fabric upholstery, invest in a protective coating. Guests can spill wine, and kids can spill just about anything.

Coordinate pieces. Buy tables that complement the style of your seating. Don't limit yourself to a single coffee table; continue your user-friendly approach with chests, end tables and flat-top ottomans that can hold guests' plates and glasses during a party or meeting.

Add finishing touches. Accent your living room with beautiful or meaningful accessories, but don't spread them around haphazardly. Buy shelves to hold a collection of teacups or get an armoire with a glass front to show your rocks and seashells. These displays make fine focal points but don't interfere with life in the living room.
Living Room Decorating Tip:

If you're daring, combine a few different types of decor in your living room. Mix a mission-style table with a country couch or a formal chest among your modern chairs.

Buy Living Room Furniture
Back to Guides Directory