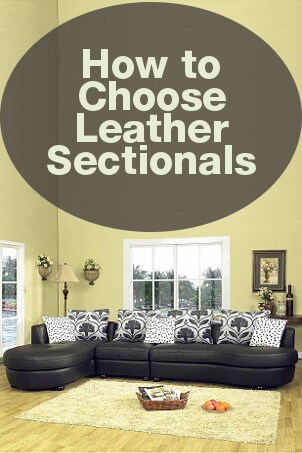 If you need furniture for a large living room or family room, and you need to provide the maximum amount of seating for the space, then a sectional sofa is a great choice. Although many fabric materials are available, leather sectionals are popular because of their durability, ease of cleaning, and stylish look. When you start shopping, you'll find that there are many different style available, so here are some tips on choosing the best one for your home.
Choosing Leather Sectionals:

Measure the room in which you plan to put the leather sectional. Sectionals come in a wide range of sizes, from relatively small to very large. Plan the configuration of furniture you want, and then measure to find a range of sizes that make sense. Don't forget to measure for a minimum size; a sectional sofa that is too small for your room may look strange.

Measure your doorways. Although most sectional pieces are small enough to fit through standard-size doorways, your home might have door frames that are narrow. Measure to make sure you'll be able to fit your new leather sectional into your home.

Compare leather grain. Leather is divided into two categories: top grain and split. Top-grain leather is most durable and natural-looking, but it's also the most expensive. Split leather is slightly less durable, but the less expensive option. Split leather also is usually one consistent color, without leather grain patterns. Both top-grain leather and split leather can be corrected, which is a process that sands away imperfections.

Choose a color treatment. The most durable leather for sectionals is treated with pigments, but this gives the leather a less natural look and feel. Aniline leather is at the other end of the spectrum. This type of leather is natural, with no dyes, but it less durable and less stain-resistant. A happy medium is semi-aniline leather, which is treated with a light wash and allows some of the natural pattern to shine through.

Consider suede and nubuck. These soft leather materials come from buffing split leather and top-grain leather. They give leather the feel of velvet but require more maintenance and protection from stains.

Choose a cushion style. Most leather sectionals have attached back cushions, but some have back cushions that are removable for easier cleaning. Removable cushions will give the room a casual, contemporary feel, which is perfect for family rooms or home theater rooms. Attached backs or tufted backs will feel a bit more streamlined and a bit more formal, but the style is very chic.
What Do You Want to Do Next?

Shop Leather Sectionals
Shop Leather Sofas & Loveseats
Shop All Living Room Furniture
See All Guides
Read More Furniture Guides
Learn More about Living Room Furniture