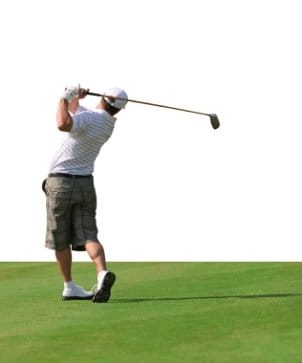 Choosing golf equipment online is challenging, and golf shoes are not an exception; in fact, shopping for golf shoes online is even trickier than shopping for other golf equipment online because golf shoe sizes can vary slightly from brand to brand. That doesn't mean that you shouldn't shop for golf shoes online. Shopping online is the best way to find great discount golf shoes, and if you go about it the right way, you can easily find a pair of discount golf shoes that fit your feet well. You will need to have a clear idea of what you are searching for, and the following tips will give you some good ideas about how to find the perfect golf shoes for you at a great price without even leaving your home.
Choosing Golf Shoes:

Browse the Internet to find exactly which style you favor. Your choices in golf shoes are nearly endless, with traditional leather, synthetic leather, sneaker style with mesh and even more designs being released all the time.

Decide if you prefer sneaker-style golf shoes. There are several reasons for this, with the first being comfort. Sneaker-style golf shoes are the ones with soles that resemble athletic shoe soles, which allow for extended flexibility and range of movement.

Decide if you prefer traditional leather golf shoes. While they are quite comfortable after a breaking-in period, leather golf shoes will have less flexibility overall but will last for a long time with proper care.

Check online reviews for brands and models that you are interested in. Browsing online user reviews for golf shoes is useful for two reasons. The first is that you can find out if people like the brand and the quality of the golf shoe. If you see good feedback from the majority of customers, chances are you've found quality, reliable golf shoes. The second is that you can find out if the shoe has any quirks in terms of fit. Does it run narrow? Wide? Half a size small? Knowing these things in advance can save you from having to exchange the shoes for a different size.

Find your shoe size and place your order. Once you have decided on the style and brand of golf shoes you prefer, you can order. Which size do you choose? Generally speaking, if you have chosen the sneaker-style golf shoes, you can select your normal size. In leather golf shoes, the sizes sometimes run a bit small. When you order, make sure you read the shoe sizing guidelines for the brand you have chosen; this is where you will generally see any size discrepancies mentioned.

Buy Golf Shoes
Back to Guides Directory