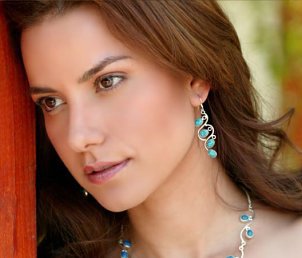 Beautiful earrings can be the most flattering of jewelry. Just like cosmetics and apparel, the right shapes and colors in earrings enhance your look, while other styles may detract from the appearance you want to achieve. When you're shopping for new earrings, choose styles that complement the shape of your face; balance is the key. For example, round hoops will soften the angles of rectangular faces, but square earrings will emphasize sharp features. Here are a few more hints on how to choose earrings.
Choosing Earrings:

Oval face: Large, round hoops are especially flattering on women with oval faces. Actually, if you have an oval face shape, you can wear almost any earring style. However, triangles will emphasize a pointed chin and extra long chains will drag down a narrow face.

Round face: Earrings with sharp angles balance the curves of the face, so choose longer earrings with oblong or straight styles. Avoid round hoops and large chunky earrings that sit on the ear lobe. If you want some glitter, consider long dangling earrings with sparkling stones.

Square face: Round hoops and oval earrings balance the square shape best. Avoid wearing short and chunky earrings as they make the face appear wider. Studs look good, too.

Large, small or full face: Earring size should balance the size your face. Chunky earrings that are fabulous on a tall woman may overwhelm a petite woman's features, and while everyone can where dainty diamond studs, they are the perfect choice for a small face with delicate features. Round and button styles add curves to a full face, which will look better with long earrings.

Skin color: Although many people can wear any metal, white gold, silver, platinum and tungsten tend to enhance cool skin tones, and yellow gold, rose gold and copper tend to enhance warm skin tones. To find gemstone earrings that will look good on you, choose gem colors that also match your skin tone; they'll probably match your wardrobe, too.

Buy Earrings
Back to Guides Directory