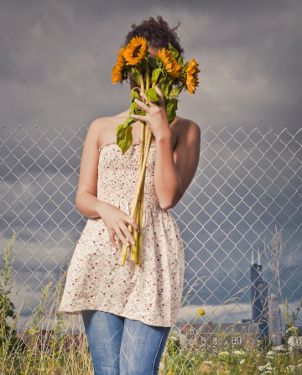 When you are shopping for makeup for your eyes, it is important to choose the right shades for your skin tone and style. Different shades of eye shadow let you create a variety of eye makeup looks for every occasion and accentuate your eye color beautifully. Whether you're going for a bright, bold look for a night on the town or want to look professional for a presentation at work, you will want to choose the best eye shadow color for you and the activity. Finding several shades of eye shadow and other eye makeup that look great on you will bring out your natural beauty. Using a few basic makeup tips, you can learn to blend eye makeup together to create a beautiful, special makeup look. Use our beauty tips to choose the best eye shadow shade for you and use it like a professional.
Choosing Eye Shadow Color:

Accentuate your shading. When you are contemplating beauty tips and picking eye shadow colors, it is important to consider your eye color and complexion shade. You can intensify your eye color and bring out the best in your complexion with the right eye shadow shades. Rather than matching your eyes exactly, choose eye shadow colors that contrast slightly with your eye color. Brown and gold eye shadows are perfect for blue eyes, and purple shades bring life to green eyes. Choose eye makeup in shades of pink, blue or purple if you have brown eyes. If you have hazel eyes, you can wear just about any eye shadow shade because hazel eyes contain a spectrum of hues.

Consider venue and activity. Choosing eye shadow that is best for the time of day, venue and activity is a valuable makeup tip. Bold, dramatic eye shadow is perfect for evening, while subtler shades will work best in many daytime situations. Simple brown, tan, pink and silver eye shadow shades and grey and brown eye liners, mascaras and accent shadows are great choices for work, school and lunch with friends. Bright, highly saturated colors, such as yellow and blue, make a statement and will impress and stand out at parties, nightclubs and dinners. Use your personality and eye shade to choose eye shadow colors and remember to balance venue and activity.

Complement your outfit. If you have several eye shadow colors that look great on you and will work for the event and time of day, choose an eye shadow that goes with what you are wearing. Green is red's complementary color, so muted green eye shadow is a good choice when wearing red. Choose a complementary color rather than an eye shadow color that directly matches your outfit. Pink and brown complement each other in a subtle way, while grey and black together make a bolder statement.

Keep neutral shades on hand. There will likely be times when you aren't sure which eye shadow to wear. A bold outfit can be tough to match, and creating a natural look is not always easy. Neutral eye shadow shades, such as beige, fawn, tan, light brown and subtle silver, are perfect when you're having a difficult time finding the right shades for you. Subtle, neutral shades look good with almost anything and still enhance your eyes' natural beauty.

Buy Eye Makeup
Back to Guides Directory