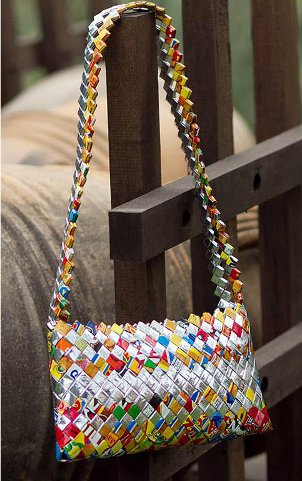 Being green means shopping responsibly. When you're browsing handmade Worldstock products, you're already being socially responsible by supporting fair trade, but you can also be environmentally responsible by choosing eco-friendly products. Learn about going green with our go-green guides and use the following tips to help you make Earth-friendly choices when shopping Worldstock.
Choosing Eco-friendly Products:

Recycled and repurposed: If you're searching for eco-friendly products to buy, look for handmade items made from recycled or repurposed materials. Recycled materials most often include plastic, rubber and metal. Recycled materials reduce the amount of waste going to landfills by turning it into another product. Repurposed materials have the same environmental benefits as and, in addition, often use less power and resources than recycled products. Many artisans use repurposed items and materials in their work as an easy, inexpensive way to create their crafts and artwork.

Sustainable materials: Choosing products made with sustainable materials is another easy way to shop eco-friendly. Bamboo, for example, grows incredibly quickly without pesticides and can be used as a wood or as fibers to be woven into fabric. Since it grows so quickly, bamboo is an easily sustainable resource. Other sustainable materials include hemp, coconut and natural rubber. Buying products made with these materials is a good way to make green choices while you're shopping.

Organic and all natural: Look for items labeled as organic or all natural. These products, made without the use of chemicals or pesticides, are easier on the environment and on human health. Because of traditional methods of production, you can find many organic artisan products, from clothing and body products to furniture. Not everything labeled as organic or natural is completely free of chemicals and pesticides, however. Some products are made with only some organic materials while others may say that they are 100 percent organic or all natural. The more natural a product is, the more green it will be.

Carbon-neutral shipping: All artisan products sold in the Worldstock Fair Trade store offer you the option to choose carbon-neutral shipping. By doing so, the eco-friendly benefits of the products you buy are even greater. Carbon-neutral shipping companies balance out the pollution and other environmental effects of shipping by planting trees and promoting other ecological projects.

Buy Worldstock Products
Back to Guides Directory