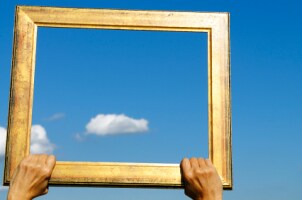 Selecting eco-friendly art for your home begins by looking at the origin of the art. To find eco-friendly art, look for items made from recycled materials or new artwork made from sustainable natural elements. Examine the methods used to make the artwork. Was it manufactured by electricity-absorbing machinery in a less-than-energy-efficient factory? Whenever possible, opt for fair-trade, handmade original art for a truly green piece of artwork.
Green Art:

Recycled art: To create a green art gallery in your home with recycled art, check paper crafts for recycled content. Choose papier mache masks and sculptures made with recycled newspapers and natural plant-based glues. Purchase art prints, collages, drawings and paintings created on recycled paper.

Repurposed art: Select repurposed artwork made from previously discarded items. Bicycle parts have been repurposed into picture frames, and old 33-RPM music albums have been made into drink coasters. Look for mosaic-style wall art made from broken glass or tile shards. Look closer at original artwork to see if it was made from materials that would have otherwise been placed into a landfill, such as old barn wood, pieces of broken flooring tiles or rubber from worn tires. Many manufacturers are incorporating old items into new pieces of art and describing them as environmentally friendly.

Handmade art: Purchase environmentally friendly home decor from companies offering handmade art. Read the description of the item online and look for indications that the artwork was made without the use of electricity or fossil fuels. Hand-woven baskets and carved wood sculptures from fair-trade sources are popular eco-friendly choices and are available online. Consider pottery that was created by a company that uses a manually operated potter's wheel, finished by natural drying and fired in an earthen kiln. Look for pottery glazes made from minerals and natural dyes.

Natural art: Buy artwork made from Mother Nature's natural waste. Wreaths made from dried pinecones, benches made of fallen trees and bowls made of large seashells all have a second chance at life as eco-friendly artwork in the home.

Natural dyes: Choose art and crafts made with natural dyes. Look for natural dyes and coloring from food or other sustainable natural elements. For example, blueberries create a natural blue pigment that can be used as a tint in paints. Spinach leaves can be mashed and strained for a green coloring.

Buy Original Art
Learn How Overstock.com is Going Green
Back to Guides Directory