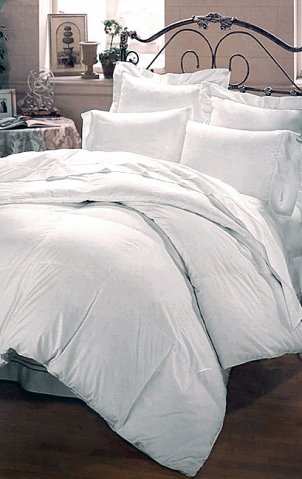 Down comforters are popular choices for bedding because they provide thick and soft covering as you sleep. Down is a soft layer of fluff that lies directly underneath the feathers of most birds. Down comforters help keep you warm during colder months without letting you get overheated. Luckily, it's possible to find down comforters on sale when you know what to look for. Look below to learn how to choose down comforters on sale.
Choosing Down Comforters:

Compare. Compare different down comforters based on the types of down they contain. While duck down may be the least expensive and can reduce the sale price of a comforter, it isn't as comfortable as other types of down. White goose down is most common and can often be found in down comforters that have white fabric. If a down comforter has dark fabric, make sure it uses grey goose down to avoid color clashing if a feather sticks out from the fabric.

Match your design. Choose a down comforter on sale that matches the design of your room. While most down comforters are white, they can also come in other colors, such as blue, tan, green or mauve.

Pick the right fill power. Pick a down comforter with a fill power that matches your environment. Fill power tells how much down is filling a comforter. Less-expensive down comforters will have a light weight and a fill power of around 525, which will keep you warm in a bedroom of around 70 degrees Fahrenheit. If you live in a cold home or live in an area that experiences cold winter, look for down comforters on sale that have a fill power between 600 and 700.

Look for a high thread count. Look for down comforters on sale that have covers with a high thread count. Higher thread counts usually produce a higher price, though you can often find sale-priced comforters that have this high-quality fabric. Comforters with a thread count of over 1000 feel soft and luxurious, but a thread count between 400 and 1000 is a good goal for comfort.

Pick the right stitching. Choose down comforters that have the most comfortable stitching within your price range. Inexpensive down comforters most often feature a box stitch that helps keep the down in place for an evenly comfortable experience. Baffle box stitching provides the puffiest down comforters.

Buy Down Comforters
Back to Guides Directory