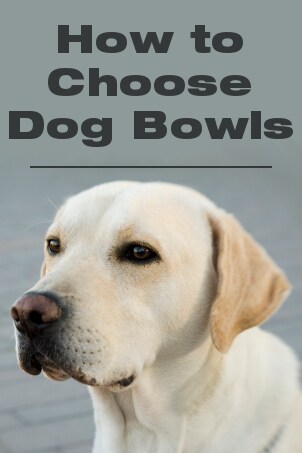 SHOP DOG BOWLS NOW >>
When you're shopping for dog bowls, you'll need to consider your dog's breed, the place where you feed your dog, and the type of food you feed him. Here are some suggestions that you'll want to consider, so you can choose the best feeders and waterers for your dog.
Choosing Dog Food Bowls:

Determine what type of bowl construction is best for your pet. A lightweight plastic bowl is easy for an active puppy to tip over, so choosing a heavy, sturdy bowl for young puppies is a good idea. Ceramic bowls are a good option for small puppies that knock things over or try to slide bowls across the floor. Pick stainless steel bowls for dogs that tend to chew; the durable material will resist being damaged. Stainless steel is also a good choice if you feed your dog moist food because it the food won't stain the metal. Moist food has a tendency to stain bowls made from porous materials.

Choose a bowl size. Determine the daily amount of food the dog requires and purchase a bowl that can hold that amount. If the dog is fed twice a day, the bowl can be smaller to accommodate the serving size. Look on the back of the package of dog food for recommended feeding guidelines.

Select a bowl with extra features to make mealtime easier and safer for the pet. Pick a bowl with a rubber nonskid base if the dog tends to push his bowl around. Choose a bowl with raised bumps in the basin for dogs that tend to eat too quickly.

Purchase an elevated bowl for tall, long-necked breeds. Tall dogs are more comfortable eating from an elevated bowl. Allowing the dog to eat at a comfortable height will make mealtime more enjoyable and digestion easier. Choose from elevated water and food bowl combinations or individual food bowls. To learn more, read our guide on the best dog bowls for large breeds.

Find a smaller, low dish for small breeds. Shorter breeds benefit from low-sided dog bowls at ground level. To make sure your small dog stays fit and trim, you may want to look for an automatic feeder that will dispense the right portion of food at times you set during the day.

Choose a bowl that coordinates with the pet's surroundings. Coordinate the bowl color, shape, pattern, or construction with the room where the dog will be fed. Stainless steel bowls are a nice accent with stainless steel appliances. Decorative ceramic bowls with fun patterns work well in living rooms and kitchens.

Shop Pet Bowls
Shop Waterers
Shop All Feeders & Waterers
See All Guides
Read More Pet Guides
Learn More about Pet Gear & Supplies