Dining chairs with hard seats and backs offer little comfort when you're enjoying a leisurely dinner with friends. No need to suffer; dining chair cushions are the answer. Cushions make your dining room chairs more comfortable and can protect your chairs from scuffs and scratches. Chair cushions also add color and fun to your decor. If you have uncomfortable chairs in your kitchen or dining room, this handy guide can help find a chair cushion that works for you.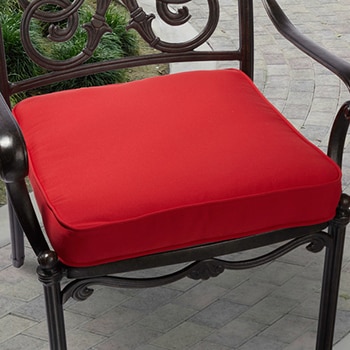 Size
The standard size of most dining chairs is approximately 16 inches square. There may be some variation in older chairs, so it's important to measure the seat of your dining chair before you make your purchase. For maximum comfort, your chair cushion should extend to the front edge of the chair seat without hanging over.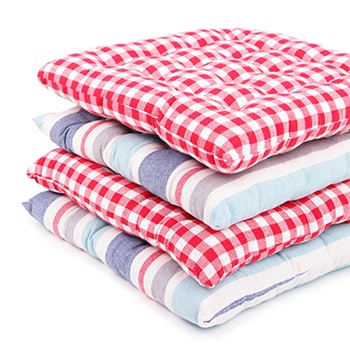 Fabrics
Comfort is key, but fabric choice is also an important consideration. If you have small children (or messy older ones), choose a fabric that is durable and stain-resistant. For example, microfiber is soft to the touch and resistant to stains and spills, and canvas holds up well to daily wear, especially when treated with a water-resistant protector. Dining room cushions that offer zip-off covers also make cleanup extra easy.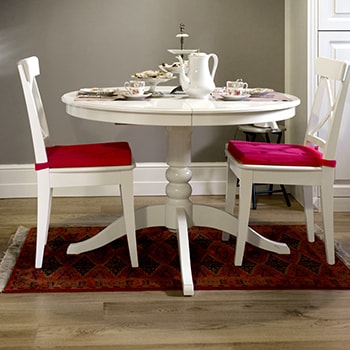 Features
Not all dining chair cushions are created equal. It's important to know which features are important to you. Consider these options when choosing your dining chair cushions:
Traditionally, a cushion is fastened to the chair with ties. If you want to eliminate the need for ties, look for a non-slip fabric on the bottom of the cushion.
Tufted chair cushions are popular, while memory foam offers comfort with a lower profile.
Chair cushions contribute to the overall design of your kitchen or dining area. The color of your cushions is a great way to complement or contrast other elements in your kitchen decor.
Cindy enjoys creating a comfortable home and appreciates the details that make that possible. When she's not searching for finishing touches, Cindy loves spending time with her family, entertaining friends, and following the lives of the British royal family.