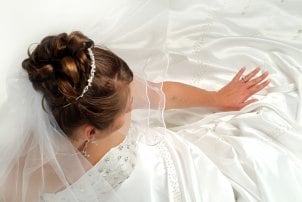 If you're ready to pop the big question, choose diamond wedding rings for you and your beloved. A simple gold ring has been the standard in wedding bands for centuries, but many modern brides and grooms are choosing wedding rings with more sparkle. Diamond wedding rings allow you to add gems to your wedding jewelry ensemble. These rings draw attention to your prized wedding jewelry. Diamond wedding bands can be matched to your diamond engagement ring, creating a stylish combination. If you feel overwhelmed by the many choices in diamond wedding bands, allow us to help you narrow down the options and select the wedding bands that will delight you and your beloved.
Choosing Diamond Wedding Rings:

Diamond shape: The first step in choosing any piece of diamond jewelry is to decide what you want the diamond to look like. Diamond shape is an important part of this process. Many brides choose to match their wedding ring to their engagement ring. This creates a nice, uniform look. If you want a more artistic combination, however, you may want to select a diamond wedding band that has a different diamond shape than your engagement ring. Round diamonds are the most common in wedding jewelry, but diamond rings with princess-cut diamonds and emerald-cut diamonds offer a fantastic, unconventional look.

Diamond size: Diamond size greatly impacts the way a diamond ring looks. Many diamond wedding bands have small stones, but large stones are also appropriate. This choice depends largely on your style preferences and your budget. If your engagement ring has a large diamond, then a diamond wedding band with large stones may look best. Compare total diamond weight, abbreviated TDW, when shopping for wedding bands. Total diamond weight will tell you how many total carats are in the jewelry, rather than the number of stones or the sizes of the individual diamonds.

Ring setting: As with all diamond jewelry, the ring setting is an important consideration when shopping for diamond rings. Channel settings are most common in diamond wedding bands. Channel settings hold a row of diamonds in the center of the ring, without metal between each stone. Prong settings are also available in wedding bands; these settings hold the stones with three or four prongs with the diamonds raised above the band. Many wedding bands have pave settings, which combine several small stones to look like one large gem.

Buy Wedding Rings
Back to Guides Directory