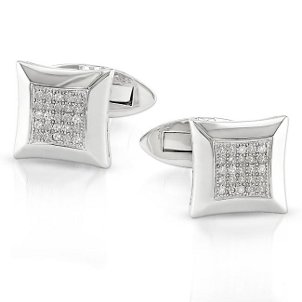 A pair of diamond cuff links is the perfect gift for your fiance the night before your wedding. Diamond cuff links will go with his tuxedo, and he can wear them to fancy events for the rest of his life. Shopping for diamond cuff links is like shopping for other pieces of men's jewelry. You must carefully compare diamonds and styles to choose the pair of cuff links that will match his wardrobe just right. Let us help you select cuff links with these facts about diamond jewelry.
Choosing Diamond Cuff Links:

Shopping by diamond: When shopping for diamond jewelry, it is important to know what kind of diamond you are looking for. Diamonds are rated on clarity, color, cut and carat weight. Men's jewelry with large, seemingly flawless white diamonds is the most sought after. Diamond cufflinks with large diamonds have the look of stunning solitaire diamond earrings; these cufflinks will be a big investment. Diamond cufflinks with smaller diamonds are also available. Round diamonds are popular in cufflinks, but some men's diamond jewelry has square diamonds or emerald-cut diamonds. Emerald-cut diamonds have an antique aesthetic, while round diamonds are more modern.

Choosing the setting: When choosing men's diamond jewelry, you'll want to carefully select the setting. The setting will refer to both the setting style and the metal used. Pave settings and bezel settings are the most popular styles in cufflinks because they offer a smooth surface, which is less likely to snag on clothing. Pave settings incorporate multiple diamonds in a pattern. Bezel settings hold one solitaire stone in an enclosure of metal. Diamond cufflinks are made of white gold, platinum, sterling silver, yellow gold, titanium, tungsten or stainless steel. White gold, platinum and sterling silver offer the popular silver hue. Yellow gold is a classic and elegant metal for fine jewelry. Titanium, tungsten and stainless steel are very durable. Match cufflinks to his current wardrobe.

Selecting additional embellishments: Just as with all jewelry, diamond cuff links can be decorated with intricate metalwork and colorful gemstones. If the man in your life already has a pair of simple diamond cuff links, consider giving him a more elaborate pair.

Buy Cuff Links
Back to Guides Directory