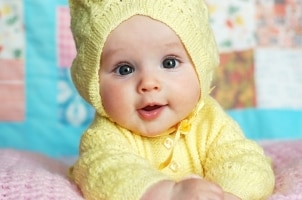 Inviting a new baby home is an exciting moment, and having the perfect baby quilt for the nursery makes the moment that much more special. Finding the right baby quilts, however, may take some time and planning. There are many factors you'll want to consider when you start shopping for baby bedding, so the following tips are designed to help you find the right quilt for you and your baby.
Choosing Baby Quilts:

Decide how and where you want to display the baby quilt. Since sleeping with quilts is not recommended for babies under 12 months, many parents choose to use a baby quilt as a decorative piece only. You can display a baby quilt in the crib while the baby is not sleeping and simply remove it at bedtime or naptime. Another popular option is to hang the baby quilt on the wall where it can serve as a charming wall hanging for the nursery. If you decide to hang the quilt on the wall, you may want to look for quilts with larger patterns or quilt block designs that will be easy to see against a wall.

Coordinate with your nursery colors and themes. Since your baby quilt is going to serve primarily as a decorative accessory, you'll want to make sure it looks great in your baby's room. Look at the decor you have chosen and see if there is an overall color scheme or theme; then select a baby quilt that will coordinate well. Although many baby quilts are sold with coordinating bedding sets and accessories, you don't always have to choose the coordinating pieces. Feel free to be creative and play with colors and themes that complement each other.

Choose soft, washable fabrics. Baby quilts are bound to get dirty, so make sure you select a quilt that is machine washable and soft on a baby's skin. Baby quilts that are made of 100 percent cotton are highly recommended because they will not irritate your baby's skin and are easy to throw in the washing machine. Soft cotton blends and organic fabrics are also great choices when you're shopping for a baby quilt. Luxury fabrics, like satin or silk, make very pretty baby quilts that can be passed down as family heirlooms, but the fabrics may not be machine washable. Be sure to keep washability in mind if you are considering purchasing a luxury baby quilt.

Consider how long you want to use the baby quilt. Most baby quilts will fit on a toddler-size bed and can be used for several years. If you want your baby quilt to grow with your child or even be passed on to younger siblings, choosing a more expensive baby quilt made of durable fabrics is a good idea. You may even want to choose a theme that can be used for a toddler as well as an infant, such as fire trucks or dinosaurs for a boy and flowers or princesses for a girl. Even a neutral baby quilt that can coordinate with different accessories as your child grows is an option.

Buy Baby Bedding
Back to Guides Directory