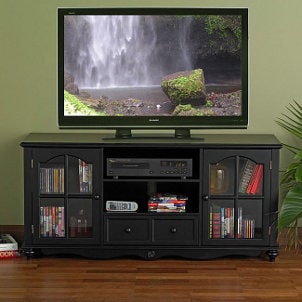 Now that you've upgraded your television, it's time to upgrade to an LCD TV stand. These stylish TV stands are must-haves for LCD television owners, as they are designed specifically to hold flat-screen TVs perfectly. With LCD TV stands, you will be able to give your television the ideal resting place. LCD TV stands are sold in a huge variety of styles, sizes and materials, which can prove complicated for many prospective buyers. If you're in the market for a stand or entertainment center, you're likely to have a lot of questions. Fortunately, you aren't alone, so you have nothing to worry about. Read over this guide to learn how to choose an LCD TV stand that will make a great fit in your home.
Choosing an LCD TV Stand:

Determine size: The first and most crucial step you must take in your LCD TV stand search is to determine what size of television set you have. TV stands vary in size to fit different televisions, so it's important to know what size your TV is. Popular LCD TV sizes are 22 inch, 26 inch, 32 inch, 37 inch, 42 inch, 46 inch, 52 inch and larger. Generally, the box your television came in will tell you its size, but if you don't have that, check the back of the TV for information or measure it yourself. If you need to measure the TV yourself, make sure to do so diagonally from corner-to-corner, not vertically.

Think about style: Once you know what size of TV stand you're looking for, it's time for the fun part: style! LCD TV stands are made in virtually any style you can think of, so no matter what your personal taste, you shouldn't have a hard time finding one that will work in your home. Pick from modern TV stands, traditional TV stands, rustic TV stands and more.

Choose a material: Another important part of choosing an LCD TV stand for your home is selecting a material. This step goes hand-in-hand with style, but you'll also want to consider durability and use when thinking about material. If your TV stand is going to be in a high-traffic area or around children, for example, you'll want to think about something sturdy and stable, such as solid wood. If your stand won't be in danger of bumps and other dangers, you might want to consider something less bulky, such as glass or polished metal.

Buy TV Stands
Back to Guides Directory