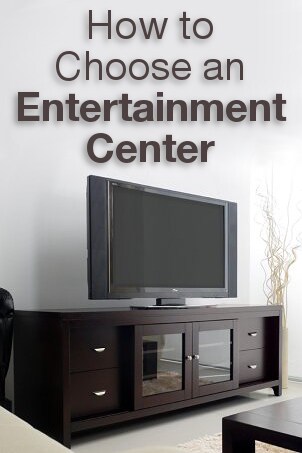 SHOP ENTERTAINMENT CENTERS NOW >>
One piece of furniture that often finds itself as the centerpiece of any room it occupies is the entertainment center. These media storage solutions are sold in every, shape, size, and color, which means there's one for every preference. When you're shopping, the sheer multitude of entertainment centers can seem overwhelming, but don't fret; here are some helpful hints on how to choose an entertainment center. By considering all these points, you're sure to find the entertainment center that best suits your needs.
Buying an Entertainment Center:

Measure your space. Before making another move toward buying an entertainment center, find out how much room you have to work with. By measuring the room you hope to place the new furniture in, you'll be able to pick the perfect entertainment center for your space. You'll be so disappointed when you find you have to turn right back around and return your entertainment because of size issues. It's easy to avoid that mess when you plan ahead and measure accurately.

Measure your TV set. Entertainment centers are created to hold televisions of certain sizes and weights. Find out how large your television is before selecting a media storage solution for it. Once you know your dimensions, you can eliminate all the entertainment centers that don't meet the necessary size requirements, which makes it easier to choose your perfect entertainment center.

Decide what you need to store. Entertainment centers do more than hold your television. They're also a great place to keep audio equipment and serve as perfect storage for movies, CDs, and video game equipment. Take inventory of what you need to store before beginning an entertainment center hunt; it'll help you find something to properly organize all your entertainment necessities. Your new entertainment center will look even better in a clean and organized room.

Consider style, color, and material. After you've dealt with the practical requirements of your new entertainment center, think about aesthetics. Entertainment centers are built in all kinds of styles and colors and from a variety of materials. Whether you want a metal media storage solution with a chic, industrial design or a grand, elegant entertainment center carved from wood, there's one out there for you.

Shop Entertainment Centers
Shop Media Storage
Shop All Living Room Furniture
See All Guides
Read More Furniture Guides
Learn More about Living Room Furniture