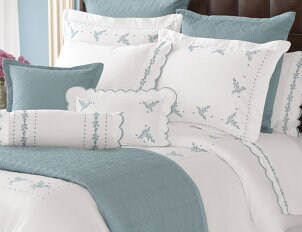 New accent pillows are an inexpensive way to make your home feel fresh and new. Throw pillow add a polished style to your home and enhance the patterns or colors of your decor. With decorative accent pillows, you can add comfort and beauty to beds, chairs, couches, benches and window seats.
Choosing Accent Pillows:

Consider color. When choosing decorative accent pillows for your bedroom, there are a couple of approaches you can take. You can let the throw pillows inspire the overall decor of your room or you can let the overall decor of your room inspire the throw pillow. Either way, color is a good place to start.

You're my inspiration
If you're having a hard time choosing which colors to decorate your bedroom, you can get a lot of inspiration by starting small. When you start with an accent piece like a throw pillow, the color coordination is already done for you. All you have to do is pick it apart.
Once you find a throw pillow that you love, begin matching the wall color, bedspread or area rug to the colors in the pillow. For example, if you choose a throw pillow that features a pattern in red with sage green, ivory and chocolate brown, you could paint the walls ivory or sage green, choose chocolate brown or red for the bed sheets and duvet, and then get a few solid color accent pillows in ivory and sage green; and there you have it, a perfectly coordinated bedroom color scheme.
The perfect match
If you already have the rest of the bedroom designed and you just need the perfect decorative pillows to finish off the look, it's just a matter of searching until you find the right one. Online shopping is by far the easiest and most convenient way to search through large quantities of accent pillows quickly so you find exactly what you're looking for in no time. Start at Overstock.com, where you'll find a gigantic selection of discount accent pillows in every color, style and fabric.
Opposites attract
You don't always have to find the perfect match. Sometimes the most beautiful color schemes are accomplished using complementary opposites. Instead of choosing a purple throw pillow to match your purple bedspread, purple carpet, purple paint and purple chair, try throw pillows in a beautiful golden yellow. Or, enliven a neutral-colored bedroom with decorative accent pillows in coral and green.
Design. Room design encompasses mood, tone and theme. Set the mood with a color scheme, set the tone with the textiles and set the theme with patterns and prints.
Fabric
Like color, you can choose a fabric that matches perfectly or you can choose a fabric that complements perfectly. You probably wouldn't want to choose a microfiber pillow to go on your silk bedspread, but velvet, velour, chenille or silk throw pillows add a lovely texture to your cotton sateen or damask bedspread. Let your personality show with a faux-fur or animal print throw pillow. Experiment and have fun with texture.
Theme
There are almost as many themes are there are colors. You can choose any theme from French country to Asian and anything in between. If you choose an Asian-inspired theme for your bedroom, choose colors and fabrics that go with that theme. Silk pillows in bold red and black will look beautiful next to a traditional Japanese screen. A theme doesn't have to be complicated; your theme can be as simple as a stripe motif. Simply accentuate a solid color bedspread with floral, polka dot or striped accent pillows.
Reduce, Reuse, Recycle. If your current decorative pillows are still in good condition, but they're just a little outdated, you don't have to throw them out and buy new ones. Give your old throw pillows new life with new pillow covers. Simply fit the new shams over your old pillows and voila -- new pillows, no waste.

Buy Throw Pillows
Back to Guides Directory