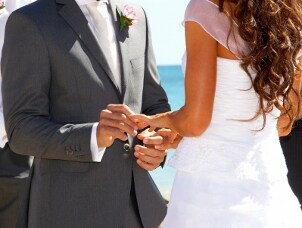 Your wedding is one of the biggest events of your life, so you'll want the tuxedo you wear to be perfect. While men's suits aren't as varied or flashy as the bride's dress, you do have a lot of options when choosing a wedding tuxedo. Before you start shopping for tuxedos, read the following tips to learn how to choose a wedding tuxedo.
Choosing a Tuxedo:

Time of day: The time of day your wedding takes place can help dictate what formalwear you choose to wear. Daytime weddings typically call for a less formal tuxedo than evening weddings, so you would likely want to choose a tuxedo with a morning coat or a single-breasted blazer. For a more formal evening event, a men's tuxedo with a double-breasted dinner coat is an elegant choice, and a tuxedo with tails is best for the most formal weddings.

Season: The time of year you've chosen for your wedding can affect your tuxedo choices as well. For spring and summer weddings, you may want a slightly less formal, lighter weight men's tuxedo to keep you cool in the heat. Long coats and heavy fabrics are best left for fall and winter weddings when you won't be too warm in your formalwear.

Style: In additional to the time of day and the time of year you've chosen for your event, you'll want to choose a style of tuxedo that fits the mood of the wedding. If you're having a formal garden wedding, a tuxedo with a white dinner jacket and black pants is a classic choice. If your wedding is a romantic evening dinner, a formal tuxedo with tails and a bow tie is suitable.

Colors: Black is the classic color for tuxedos, but modern weddings are offering more choices in men's suit colors. For an evening wedding, a classic black, grey or navy tuxedo is ideal, while a tan or even white tuxedo is just as appropriate for summer weddings and daytime events. You may also want to consider the wedding colors and choose a tie or tuxedo vest in the wedding colors to wear on the big day.

Buy Tuxedos
Back to Guides Directory